Worldwide communication system SkypeIn is accessible with virtual numbers. IP telephony from Freezvon allows a wonderful opportunity to accept calls without paying extra money for calls. Such possibility is made thanks to IP telephony with call forwarding to Skype that is called SkypeIn.
Get VoIP number in any of countries providing by Freezvon, what necessary for getting free inbound calls is just to readdress them to Skype.
Such opportunity may be actual for everyone, not only physical person, but also companies that want to economize greatly on their telephony. As Internet connection is almost widely-spread, to use call readdressing to Skype is possible in our times. Freezvon permits very convenient conditions for telecommunication with foreign countries, so it's up to you what service could be more useful in connecting people. One great service called SIP permits not only get calls, but make them cheaper at local rating. Get SIP account from Freezvon, download apps as Zoiper or Xlite and finally install redirection to SIP.
What is SkypeIn phone service?
That's new additional service from Skype, that alternative program of SkypeOut. Subscriber will have a special number and every possible caller can dial to it. For example, you have mates in Chicago, pick a SkypeIn number with local city code, they can call you via Skype as to regional number. So this feature is suitable to keep in touch with friends to save their money. But people who are out of the USA will pay as for abroad call. Get more than 10 numbers to one account for any country.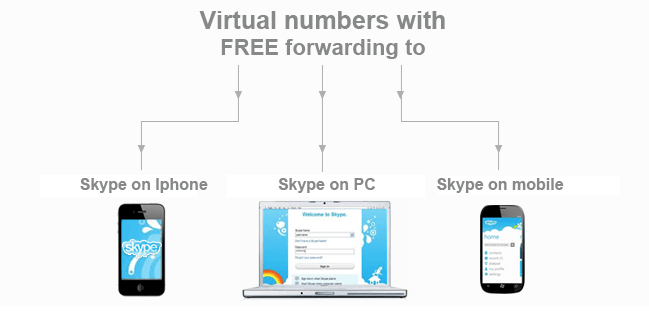 SkypeIn service
Virtual telephony with call redirecting is perfect investment for private and commercial usage. Being very profitable way of telephone communication, it maybe used in any practical usage.
SkypeIn service makes telephony be very helpful unit of communication, as it has such preferences:
Opportunity to accept calls from real numbers with SkypeIn;
Redirecting to Skype is FREE;
Workability without additional complicated settings;
Accepting of calls not bounding to physical location;
Opportunity of making calls with free SIP account;
Perfect connection quality etc.
With SkypeIn the usage of virtual telephony may be very easy. Only permanent access to Internet is required for its usage. With Skype on smartphone, you may answer free even on the go.
How to use VoIP number with Skype forwarding?
Such opportunity permits accepting calls to Skype from real numbers. SkypeIn numbers working with call redirection gives possibility to accept calls without depending on location of IP-telephony users. Having access to Internet, and Skype program set to PC or smartphone, this number accepts phone calls without paying for their receive. So, they are free.
What is necessary for setting SkypeIn virtual number ? While ordering a number, what is necessary to do is to pick call redirection to Skype, and type in destination details your Skype login. It's very important that Skype has status online for correct calls receiving. The redirection of call may be changed whenever its needed in personal profile to another Skype login, or even to another redirection type: sip, alternative.
Obtain virtual phone number by Freezvon?
You may get virtual number whenever you are from the list that Freezvon provides. In order to get SkypeIn virtual number you need to:
Register and get access to personal account;
Top up balance for ordering number;
Order the number via personal profile, entering your Skype login.
Then this phone number will be activated within 24 hours. Letter about connection will come to your email address, so please, learn this information. Clicking on a button below you may see all countries and prices for virtual numbers.
Costs virtual phone number for SkypeInBuy SkypeIn virtual telephone number
After connection the number, you may use SkypeIn service at once. Everybody from other countries will have opportunity to call you to your SkypeIn virtual number. For additional help, please contact us via livechat, Skype or email.