In telecommunication world society needs more and more possibilities and opportunity to have access to them. We provide a chance to use IP telephony for better communication. Moreover, order unique additional services among which welcome greeting message function is. We offer also combined numbers – for calls and sms, fax and calls, toll free 800 and multichannel virtual numbers. All wishes about communication can be realizes with our help. Widen your experience with IP telephony from us.
Freezvon gives the possibility to add to virtual number an option called mentioned above giving good mood or tiny piece of info about the organization. This option makes talking agreeable and promising in order to get further cooperation with needed people. But it's necessary to remember that there are other features.
What is greeting message feature?
Greeting Message is a service for VoIP telephony that implies voice track being played to everybody when they first reach number. This voice message contains short info block about company, like name, type of activity and services rendered, the working hours, etc. It creates first impression and impact about the company that is very important to image. Freezvon can set a welcome message either a company's own-recorded one, or recorded by our technical department according to all the corporate standards.
The amount of target audience requires rises in several times the same as the level of trust to company too. Recorded and set messages will be played before the call is replied by operator. Let's find more about this service, workability and the standard process of order.
Among the preferences of greeting message function may be listed the next:
Short information about company;
Detailed information of working schedule;
Creation of impression of company;
Decreasing of wrong incoming calls;
Economy of employee's time and energy;
Creation of reliability and loyal attitude to company;
Help in holding the line when the operator is busy.
As you see, the welcome message can be a great supplementary service for subscribers. Callers will never miss the number and the company they call, as listen to greeting and understand what company they reached in. So, the operators will save their time not answering wrong calls.
How option of greeting message works?
This additional service is quite simple at functioning. Subscriber reaches and hears recorded salutation instead of boring tones. Statement contains all necessary details.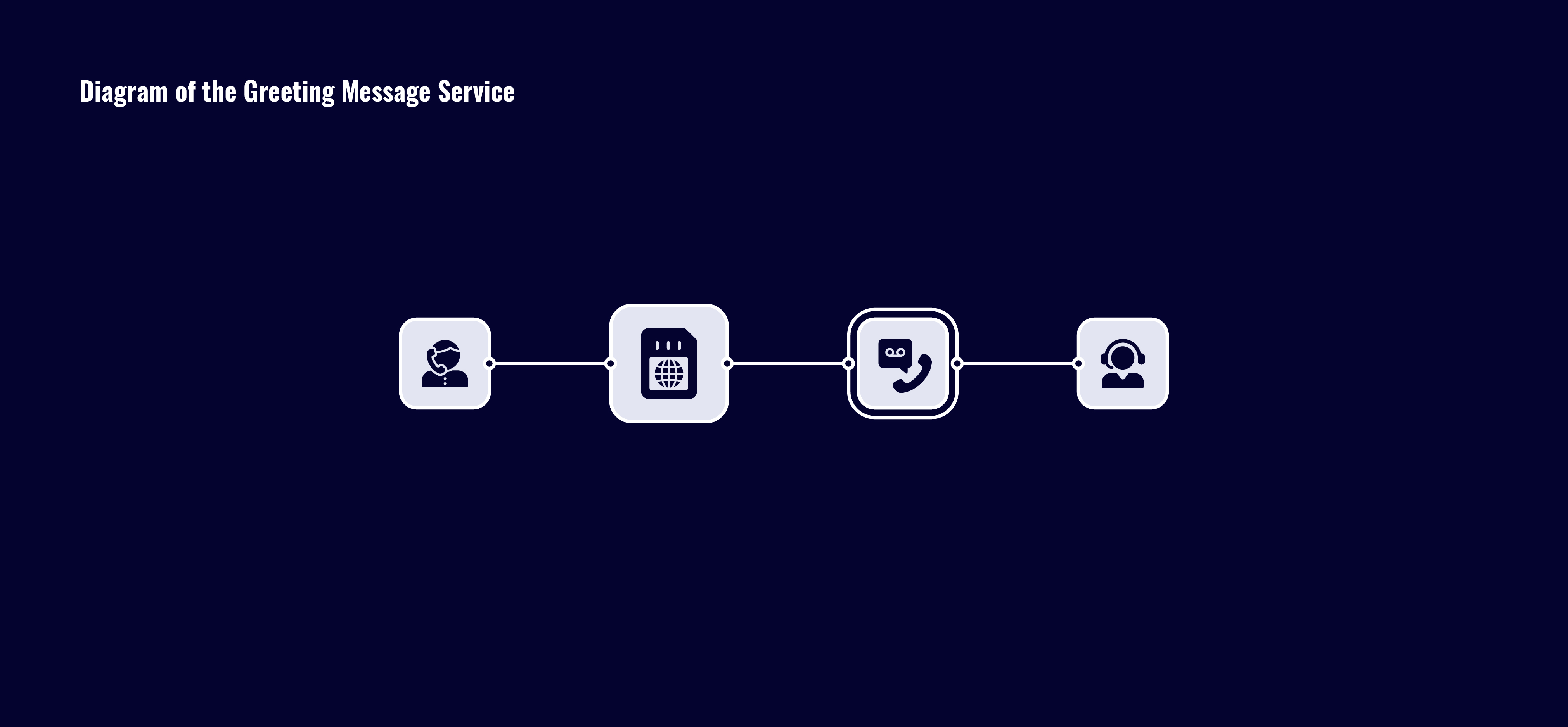 Greeting message working process
It can also be integrated with other phone service like IVR upon the company's need. All settings and modifications to either salutatory message or IVR can be done by our Freezvon technical support according to requirements and preferable benefits.
Welcome message function may become especially useful for customer facing companies. All subscribers calling may easily figure out what company they reached and the type of activity the company performs. Thus, the amount of error calls is reduced.
What is the cost of this service?
If you add such great option to virtual number, you can see this feature really attracts more clients. It is very pleasant to hear about the corporation, which you are calling. The customers usually trust companies more, when they see a firm care about themselves and trying to do their best to inform better about common data.
Creating an audio recording based on your text - from $20 (depending on the number of words).
Free installation:
Your finished audio recording.
Pricing for additional phone services
For setting this additional service, write a request to our technical support team. Salutation message option is to be paid.
How to get the service of Greeting message?
To start using the service of greeting message, firstly get the number. Prices for numbers in various countries are here. To get all and others possibilities of its feature is very simple.
All you need is:
To register on our site and get access to personal account;
To recharge the balance;
To order a number via personal account
To write the request to tech support of Freezvon for connecting the service.
If you provide a recorded welcome message, Freezvon will set it for you. Just send it to our specialists and we will help you with installation.
In case you don't have such message, it's not a problem. We can record the greeting for you using the text you wish to be heard. In short time Freezvon will connect your welcome message and you will have an opportunity to greet all your callers. Address to us via Skype, email or livechat online. Contact us now.