Virtual Phone Numbers for International Calls
Do you have a business and want to introduce your services or goods to new markets? Or maybe you need another number for registration on social networks or visiting blocked websites? Virtual numbers for calls will solve all these issues.
An online phone is a number of another country, which allows making local calls while staying 1000 miles from recipients using the code of their states.
What do I need to Give and Receive such Calls?
To use a virtual phone number for call, you should not obligatory have a mobile device. The thing is that not only smartphones can receive online calls. The following devices can also be used:
landline devices;
desktop hardware (PCs, laptops);
portable equipment (tablets).
To give or receive a call with a virtual telephone numbers, users only need to install special software and register a SIP account.
Note that users can connect not just one but more than 2 channels to their VoIP numbers.
3 Steps to Proceed to make Cheap International Calls
IP-telephony opens up unlimited opportunities for routine calls, business matters, and improved
Create an account on our website and purchase a virtual number.
Submit a request to get a SIP account.
Install a SIP app on the device that you're going to use for giving and receiving virtual calls.
That's it! The procedure is easy and quick.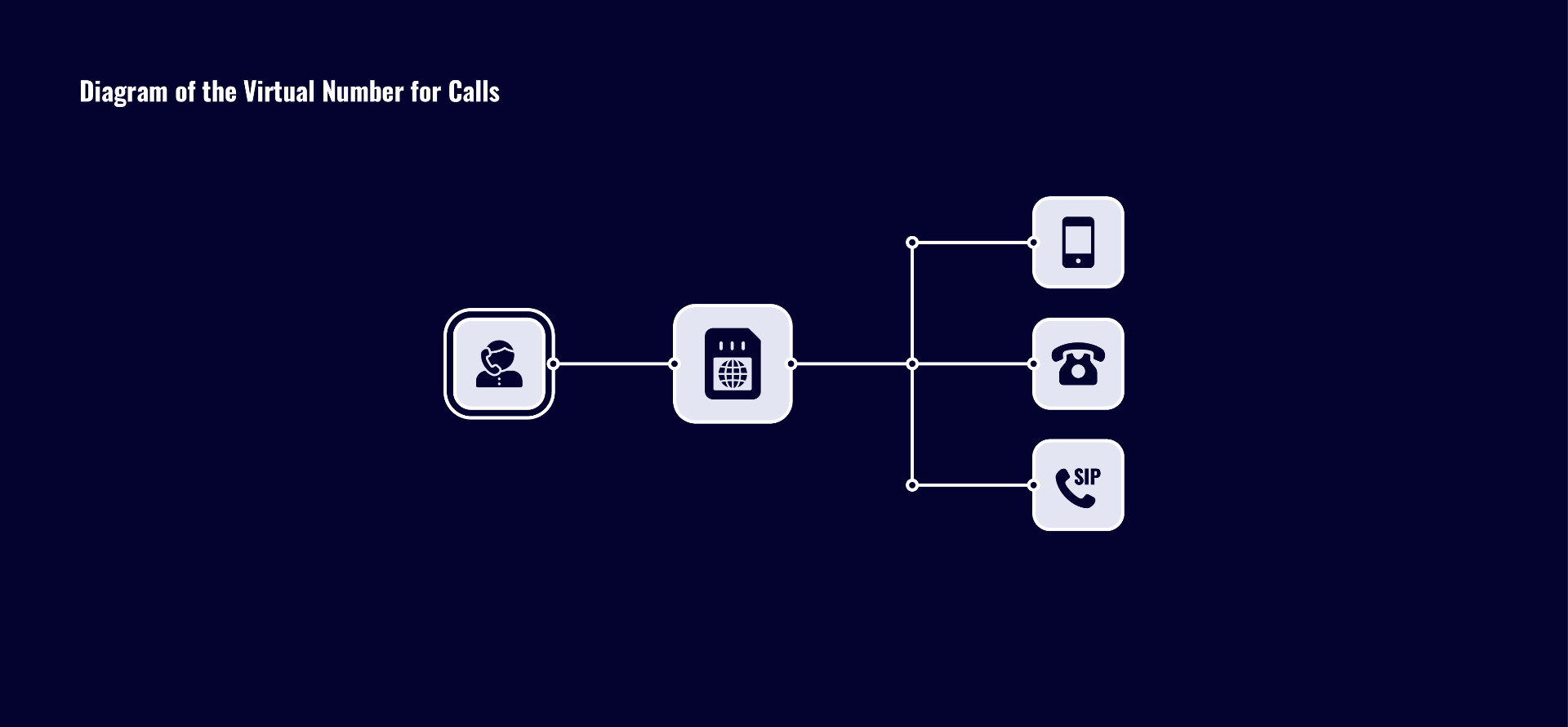 Virtual phone numbers for calls
Pricing for Virtual Call Numbers
Note that all costs for international online numbers are paid by its user. For businessmen, a low-rate price list is provided. Note that a virtual number to call will be several times more profitable if compared to roaming. The company offers moderate costs for such services.
Additional Services
In addition to a standard pack, users of online numbers can order additional services that are designed to improve customer loyalty and the level of interconnection with them. These include:
IVR menu;
Welcome message;
Voicemail;
Call forwarding;
History of calls;
White and black lists;
An online PBX station.
A virtual number will be an excellent solution for both a business environment and casual life. Connecting this option allows for bypassing bans, opening new opportunities for companies, and getting unlimited access for browsing the Web.