Virtual Numbers for Receiving SMS
An online SMS number stands as a versatile solution to cope with multiple purposes. This option blurs borders between states and allows sending messages to friends and relatives worldwide. Due to this solution, users can forget about mills of wires, SIM cards, and physical hardware.
If you receive SMS number, you'll be able to send messages and get them from different countries, set forwarding, and enjoy a low-rate price policy for SMSes. So, let's have a closer look at the option.
Benefits of Online SMS Numbers
There is no need to connect SIM cards and use other landline hardware.
A smartphone is not obligatorily needed. If you do not have the gadget, you can set forwarding SMSes to other types of equipment, such as PCs, tablets, and laptops.
Boundless communication with people around the world.
Low local costs on sending SMSes.
Buying a virtual SMS number will be more profitable in comparison with roaming. The price policy is several times lower than for sending SMSes in roaming.
Accessibility in any corner of the world.
An unlimited number of incoming SMSes.
Statistics are available in a personal account.
Wide coverage of over 40 countries.
The ability to forward incoming SMSes to email or URL.
The decision to get SMS number is truly beneficial for both ordinary users and businessmen.
The Most Common Fields of Online SMS Number Application
Account verification. Modern users are not willing to specify their personal data due to frequent hacker attacks. They are afraid of being hacked, blackmailed, or stalked. Thus, they try not to enter their real names and phone numbers. For such users, an online phone number for SMS will be an ideal solution.
Registration on portals. Some websites ban access to the citizens of particular countries due to some reasons. To bypass this ban and enjoy the whole range of functionalities provided on Internet platforms, they can buy phone numbers with SMS.
Business. Sending order messages to clients is easier and cheaper. However, virtual calls are more common in this sphere.
Casual communication. This solution can be an excellent alternative for friends and relatives, who live in distant countries. Buying an SMS phone number online allows chatting with acquaintances living abroad at a relatively low cost if compared to roaming.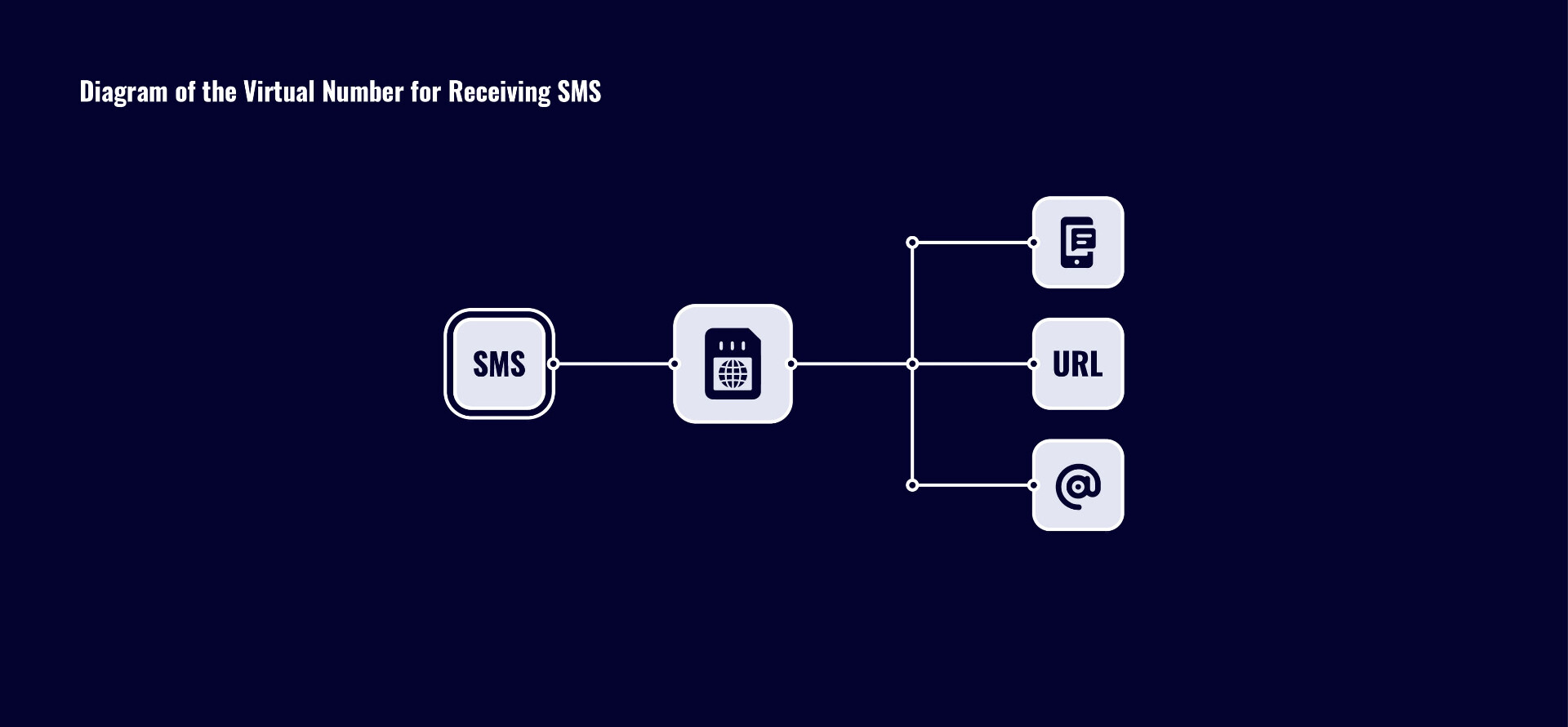 Scheme of virtual SMS number forwarding work
How to Get a Virtual Phone Number to Receive SMS?
If you want to buy online SMS number, you need to find a trusted service provider first. The Internet is full of offers from online platforms. We are a trustworthy service provider that has a wide assortment of SMS phone numbers belonging to over 40 countries all over the globe. If you want to become our client, you should go through the following steps:
Pass the registration procedure by filling out a registration form and specifying all the asked information. If you have already registered an account on our website, log in.
Replenish your balance for the required amount of money. The initial deposit should be enough to cover the cost of number connection and a monthly subscription fee.
Look through the catalog of supported countries and pick the one you need.
Specify the type of the number (SMS).
Choose a suitable code and SMS phone number online.
Specifying where SMSes will be forwarded. It can be a URL, email, or phone number.
Indicate the subscription period. How long are you going to use a virtual phone number for SMS? 1, 3, 6 months, or a year? Note that we offer a discount of 2-18%, depending on the type of number and the subscription period.
Check information once again and confirm a request.
The request will be sent to managers. Upon approval, you'll get a temporary online phone for receiving SMSes.
How Can I Receive SMSes via an Online Phone?
Some people do not like to talk by phone. They prefer to send messages. Users can set forwarding to one of three possible channels:
Email. In this case, you'll receive text numbers online and be able to look through the offered options via your PC, laptop, or tablet. The option is set for free.
URL. If you have a website, SMSes can be set and redirected to it. This SMS receiving service is free.
A real mobile phone. Note that this type of redirection is paid. If you want to get SMSes to your smartphone, enter its number in an international format.
As for sending SMSes, users can do this from their personal accounts only. To send a message, they should enter the real phone number of the recipient and the text of the SMS.
The Cost of Connecting Online SMS Forwarding
If you're going to buy SMS number, note that redirecting messages to URL or email is free, while forwarding SMSes to mobile phones is paid. Fees and tariffs differ, depending on the country and the subscription period.
The geographical coverage is huge. We offer virtual phone numbers for SMS receiving via over 40 states located throughout the globe. We embrace different geographical regions, including Australian, European, American, Asian, and African.
A virtual text number can be local or international, which allows for chatting not only within the borders of one country but with acquaintances all over the world. If you buy phone number SMS, you'll enjoy unlimited access to the Web and all its resources, as well as connect to a convenient tool for international communication.