Toll Free Numbers 800
Has your business grown into a large one so that managers do not manage to process all the incoming calls? If a telephone line is too busy, it is reasonable to use toll free number services to allow clients to contact your firm.
What are Toll Free Numbers?
Virtual toll free numbers are fee-free ones that allow clients to get in touch with business managers for free within the borders of a country. How can one identify such numbers? In most countries, they start with a unified 800 code, though sometimes it may differ (020 in Sweden, 308 in South Korea, etc.). All calls made to such numbers are paid by the owner of a number.
Another advantage of such numbers for large-scale businesses is that the range of lines is not limited. Due to its multichannel nature, it is possible to process dozens or even hundreds of incoming calls at a time. Moreover, the system automatically distributes calls between free managers.
Thus, a toll free number will help cope with the following tasks:
arrange the process of "customer-manager" interconnection efficiently;
stop losing potential clients;
increase customer loyalty since they won't have to spend minutes hanging on the line;
optimize the workflow.
A toll free number serves as a modern solution for larger-scale businesses with a wide target audience. Moreover, it allows enlarging coverage and entering new markets.
How does it Work?
Note that it is possible to use 800 numbers for calling abroad. In this case, there is no need to set roaming or buy additional numbers in other states. Fees on roaming calls will be calculated automatically by the operator.
If you buy 800 number, you'll be able to get in touch with consumers from different regions of the country or even abroad. At the same time, clients won't find out anything about your location or get any information. Thus, calling via a toll free number is fully confidential.
Getting such a number will help you significantly expand the coverage of a target audience. You can purchase toll free number for not only your native country but also for foreign states. For example, citizens of a European state can get an 800 number for Australia or the USA. Thus, citizens of these countries will be able to contact managers of your firm and won't realize that you're located in other countries. This is an excellent chance for businesses to enter new markets.
Where to Use Toll Free Numbers?
Do you wonder who should buy an 800 number? Due to the specifics of its operation, this modern solution is ideal for:
businesses involved in sales, where manager support is crucial for clients (online stores, food and clothes delivery, etc.);
enterprises that frequently deal with contacting consumers;
call-centers;
tech support for any business or website.
Thus, the service is welcome by any company that should stay in close connection with its consumers.
How to Answer an Incoming Toll Free Call?
The principle of functioning boils down to call forwarding. If you get a toll free 800 number, the system will work as follows:
An incoming call from an 800 number is received by a server.
The server forwards it to the set SIP accounts or a phone number according to its settings. Destinations to which calls are forwarded is set during purchase.
The system distributes incoming calls between free managers to achieve the best efficiency, or may be configured by another scenario based on your preferences.
800 numbers can be forwarded to one of three lines:
A home or mobile number;
A SIP- line if a SIP app is installed;
An IP telephone.
So, businessmen who buy a toll free number are guaranteed to improve the level of interaction with customers and improve the workflow.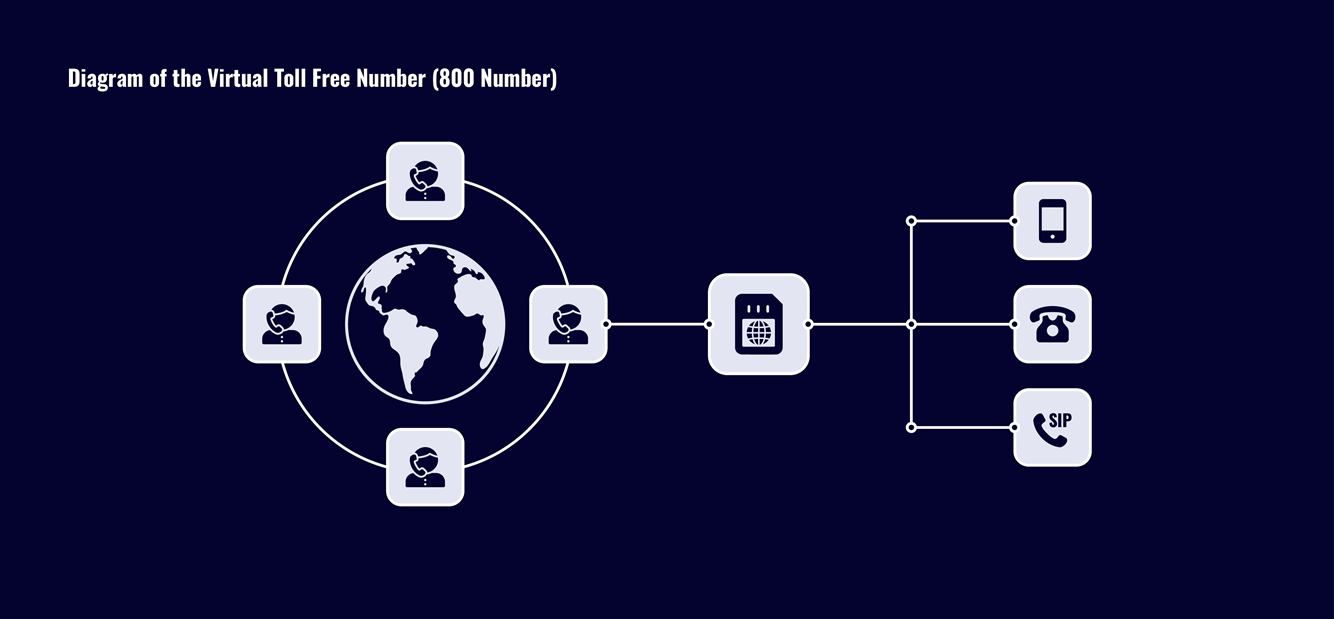 Virtual toll-free number forwarding work
How to Make Outgoing Calls via a Toll Free 800 Number?
Although the service is mainly aimed at incoming calls, still, it is possible to make outgoing calls as well. To call someone via a toll free number, users should do the following:
Install a softphone application (Zoiper, PortSIP, Linphone, or similar ones).
Issue a request for obtaining a SIP account from your personal account.
Wait for the reply. Open an email, in which your data for registering the account on the app will be specified.
Register your account in the app by entering all the required data.
Here you are; it is possible to make outgoing calls. Moreover, there is no need to pay for extra minutes waiting for the connection. Users pay for calls from the moment of starting a conversation.
Please note that 800 numbers are designed for domestic inbound voice calls, so outbound calls from these numbers are not guaranteed. In case you need outbound calls, a Caller ID change can be enacted.
Additional Services
If you need, you can activate additional services and enjoy an extended feature package. In addition to making and receiving calls, packages can include:
A welcome message. Greet customers while they're waiting for a reply;
Background music. Entertain clients with calm, relaxing music;
IVR;
Statistics of calls;
White and black lists;
Conditional call forwarding;
Call recording.
Every client can set up a toll free number as they wish to make client experiences enjoyable and effective.
Tariffs
As mentioned above, all calls, regardless of incoming or outgoing ones, are paid by the number owner. 800 number calls are free for consumers. Tariffs for calls correspond to the ones set by a local telecommunications operator.
To sum up, note that a toll free 800 number is a convenient and effective solution if you want to optimize the work of your managers, attract more clients, and generally bring the quality of provided service to a higher level. Clients will evaluate your effort; thus, you'll improve your business loyalty in the eyes of customers.