Without good conditions for communication it is very difficult to conduct business and just realize all your wishes connected with it. Freezvon is one of the providers which offers a possibility not only to get a virtual phone number but also different additional services among which hold music is. It is not the only service useful for communication. But this one is really helpful if you want to involve more clients and widen its quantity. Hold music makes a person to stay online and not cancel the call because pleasant music is holding them till the answer. Get the phone number with this option and you will see all benefits of it.
Hold music is not the only convenient function which is provided by our company. We worry about the way our clients communicate and try to propose more and more helpful options for better connection.There are lots of other additional telephone services except hold a music presented by Freezvon as conference call , blacklist, click to call, IVR-menu, greeting message and others.
What is hold music option?
Hold music is the service, which allows subscribers to hear music vice boring beeps or silence while they are put on hold. Freezvon offers its clients to play some music, when their subscribers are waiting for a response. A great choice of nice melodies is available to install. The important fact is that music on hold (MOH) makes subscribers to stay on the line longer. Simply order hold music service and give your customers a chance to listen to a pleasant slow or energetic tune and cheer them up. Improve your company image and trust, keep clients and prevent them from getting mad because of loosing time.
You may ask why you need this function and why it is helpful exactly for your business. Making a good impression about your enterprise, so MOH can become a great additional part of your corporate image.
Actually, the option's utility is a proven fact. Many researches had been conducted on the issue and all of them acknowledge the function's advantages. Due to the surveys 70% of people are put on hold for about 50% of the calls. At the same time, 73% of them prefer something different than quietness or beeps. In obedience to statistics 70% of people put on hold ring off within 60 seconds and hearing music makes them to stay connected 30 seconds longer.
Also we have to point out such additional benefits of the service of virtual telephone number with hold music as:
Pleasant sounds instead of monotonous beeps;
Relaxed and calm state of caller is guaranteed;
Image of your company will be raised up;
Once and forever you could get rid of missed calls from your potential clients.
An increase of calls conversion;
Nice music tones cheers callers up;
A big choice of music tones;
A company image enhancement.
Sometimes impatient clients become angry and finish the phone talk. Nice music will solve this problem and save your buyers. MOH can be also used after greeting message while customer waits for an operator's answer
How hold music option works?
Phone solutions from Freezvon enable holding calls and transmitting music for your buyers put on hold. From time to time such moments happen when an operator needs to precise some information during a conversation. Avoid client listening to the unnecessary talk between managers and allow an operator to put the subscriber on hold.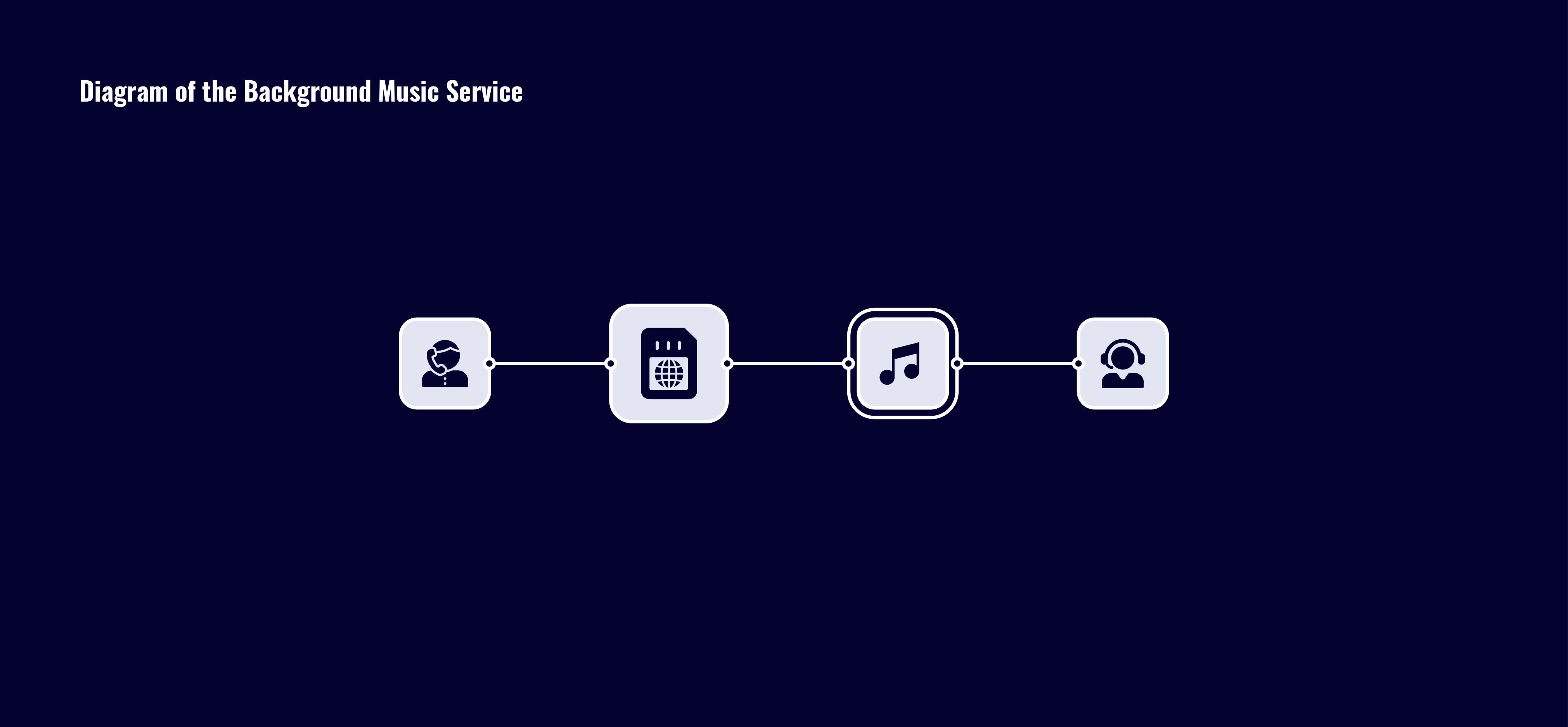 Hold a music operating principle
The buzzers are boring, uninterested and seem to be endless. Everybody is tired of listening to beeps or silence in a handset. Thanks to MOH service your clients can enjoy pleasant tones while waiting for an answer.
Besides, different formats of audio or radio can be used for filling emptiness. The most widespread sources are MP3, radio, stock CD's, streaming sound (from the internet) and others. For VoIP telephony, digital audio files are downloaded and installed without any special equipment. Please, ask our support specialist about currently available variants.
How much does this feature cost?
Hold music is usual option which a lot of companies use. For example, delivery call centers all the time set this function to hold all clients on line if all channels are loaded with numerous incoming calls. Music can make a person relaxed and makes him forget about annoyance that his call is not still answered. Sometimes even receptionists can make use of this option if they ask a caller to wait and does not want him to hear what she is asking. So it is very useful.
How can you get the service?
Get the service online very quickly, because it does not take much time. MOH is an option for virtual phone number service. Simply follow the next steps:
Register on Freezvon site.
Fill up your account.
Top up balance.
Order a number via profile.
Make a written request to our company support team to order hold music service.
This number will be active within 24 hours. You will receive a notification to email about your number readiness. All details about service connection and other orders are presented on your personal account.
We take into consideration all clients' tastes and help in selecting and installing the option in short terms to give you an opportunity to use this phone service immediately after getting a virtual number. Our support specialists are available online (Skype, email, live chat) or by phone. Contact us here.