Modern smart virtual telephony gives opportunity not only to accept and make calls, but also to use possibilities of sending sms to numbers of different countries. With the help of Freezvon option there is a possibility to send sms to several subscribers at once. Such phone service is called send and bulk SMS. Now nobody is forced to send equal SMS to different subscribers separately. If you have single similar info and want to share it with some people, send and bulk sms will help you for sure.
This supplementary service could be helpful in case of business developing, when there is a necessity of corporate advertising. It's possible to install such facilities as PBX station that could be characterized as telephonic services package. It comprises of SIP-accounts, big amount of numbers for free talks, hold a music, recording of calls and others. Send and bulk sms is not the only existing option that Freezvon offers to its customers. Together with other useful services, your talking will come to new and more productive level.
Send and bulk sms – cheap rates and great possibilities
Sending sms can be helpful as for personal usage and to company's one. If you have friends and want to send them SMS, there are no problems and no restrictions. Use the service of send and bulk sms on Freezvon and talk to people. Then, if you are legal entity, have own business and many customers, bulk sms can help too. How? Simple! Send out sms to your clients' mobile congratulating them with coming holidays, informing about new special offers, discounts etc. make all possible to satisfy necessary people in necessary time.
Except from already noticed advantages of number, the function of send and bulk sms also allows using your bought virtual number as sender ID, that means that your subscribers will see caller ID on their mobiles. If you don't want number is shown during sending sms, there is also opportunity to hide your caller ID and write the name of sender in text format. This option can be especially suitable for corporations that want their customers not to think what the sender is but see the name of company at once.
So, main preferences of service are such:
Cheap rates on sms;
Easy sending sms via personal profile;
Possibility to send sms to several subscribers at once;
Opportunity to use virtual number while sending sms;
Possibility to point definite number or name of company as Sender ID etc.
Easiness in use;
Assurance in the fact that SMS will be received by people;
Great variety of virtual numbers with this option.
Sending sms can start essential part of your private and business usage and help you send short but important info by sms. Simple usage and cheap rates allows you sending messages internationally to one or several subscribers in any part of the world.
How send and bulk SMS service works?
Cheap tariffs on text message help to save person's money too. Send and bulk sms is possible via personal account. This possibility permits communicating by messages without any SIM-cards and any equipment and makes this process be very simple. If you work in marketing or advertising company you will need to inform people about some events, news, updates. Thanks to such option of sending bulk texts – it has become very convenient and simple. Several clicks and everything is ready. Thanks to SMS forwarding you are able to get messages to such directions as mobile, email, URL.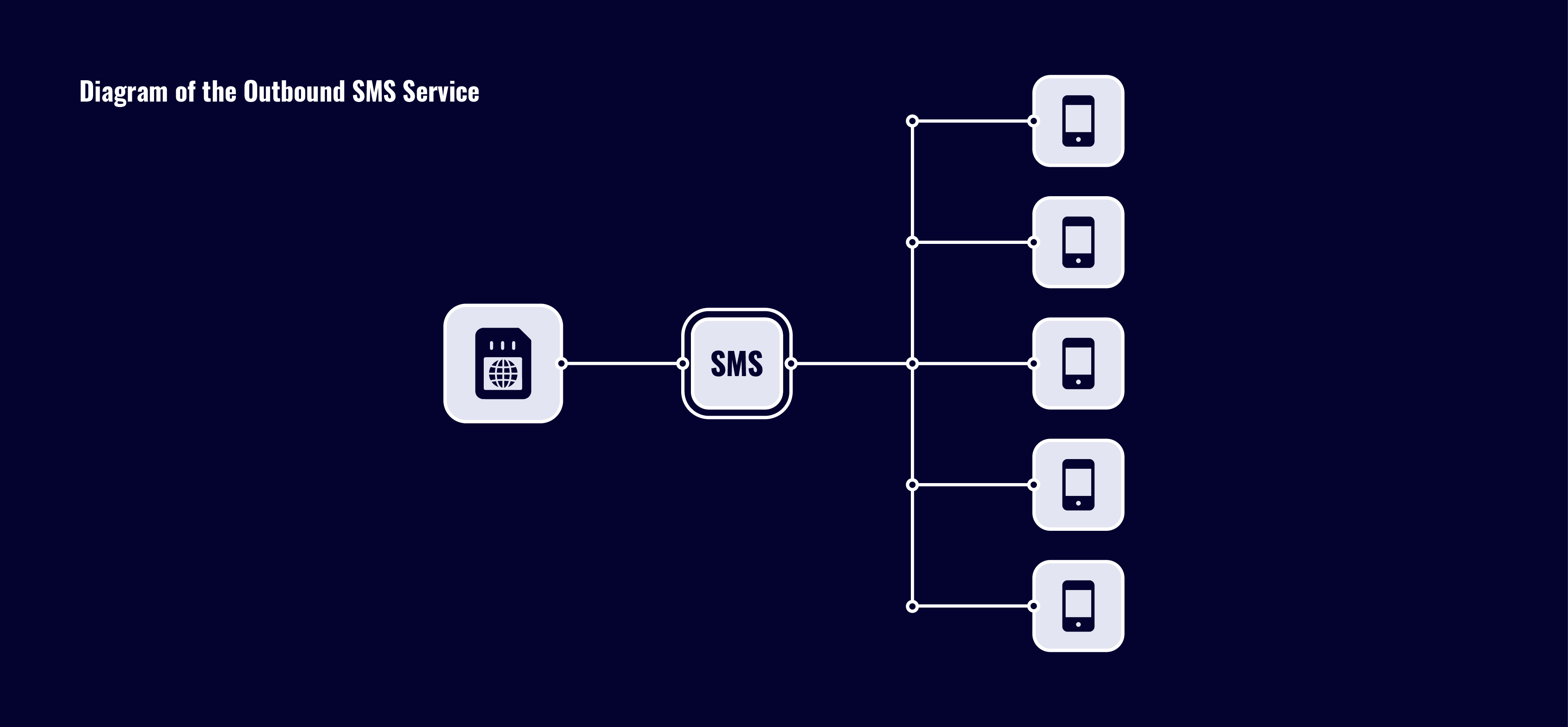 Send and bulk SMS option work
How much does send and bulk SMS cost?
The price depends on the country for which you will use a virtual phone number. For prices for sending SMS, you can check with our support department.
Pricing for additional phone services
Look at several payment services known as Mastercard/Visa, Perfect Money, Bitcoin, Bank transfer and other accessible ways from our website. You may use one of this payment service. If you got some questions, ask our managers.
How to start using the service?
You may not only send sms but also receive messages for more comfortable communication. You may see pricing info from here. A start using this service with virtual number is very simple. You need only to:
Register on our site;
Obtain admittance to your personal account;
Put money to your balance;
Order sms phone number;
Send sms from personal account.
Number will be active within twenty-four hours. See a notification about connection of your number on your personal email
Become interested in the service of sending sms? Don't lose your time and start sending sms right now using the service of Freezvon. If you have some additional questions about workability of service, feel free to apply to our support.