Any company work is related to permanent telephone communication as internal (between colleagues) as external (with clients, partners, suppliers). On appropriate stage of business development ordinary local telephone number can't cover all company's needs in telephone communication.
Then owners care about telephony system in office and possibility to provide corporate and external telecommunication. In this article, you are going to learn an info about installation of office telephones from the very beginning using IP-telephony services.
Solving a problem with big expenses is possible thanks to virtual telephony. Its connection and setting won't take too much time. Rates for talking and usage are reasonable and adequate.
What is installation of office telephones?
Telephone penetration is a process of office supporting with telecommunication system, including all necessary things for internal/external telephone conversations. Ability to organize IP-telephony for office made a process easier, you don't need to get a supplementary equipment or holding telephone wires.
Software important for office telephones setting belongs to IP-telephony provider's server, which make your office free from heavy PBX and telephone cables. If you have a necessity to move, your telephone number will remain the same, there is no necessity to search for new supplier of analogue telephone connection.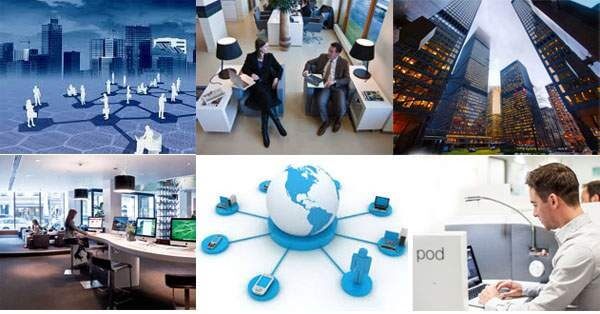 Office telephones using virtual telephony
Office telephony with IP-services usage
Office telephones used with VoIP telephone services do not present big difficulties. This process continues within several days. It should be mentioned that IP-telephony:
Can be used with analogue telephony. But you need to install IP gateway;
Radiotelephone and other telephone appliances are installed according to customer desire. For this technology usage they are unnecessary indeed;
For usage of this feature you need to have one of SIP app and basic software;
When you connect virtual PBX you could connect all appliances, which will be used in spite of their location;
Then additional channel can be created so colleagues from remote offices can talk with each other;
Calls within network are free;
Carrying capacity of office PBX is designed by quantity of channels connected at first;
Necessary speed of connection comes from supposed flow of calls;
Users of analogue services can make calls at ordinary local rates of their area coverage;
Calls from landline, cell telephones will come without troubles;
Rates are lower, quality of connection is higher and better;
Freezvon Company concedes a possibility of ordinary numbers connection to IP-network, combination of analogue and virtual telephony usage. Just install IP-gateway and telephone appliances.
However, this variant is not recommended because of failure appearance probability. More beneficial choice is a using of virtual number with redirection to mobile/radiotelephone.
Virtual mini PBX is more flexible, considered for usage in very different sphere of business. If you have remote office, you had better to use Internet connection, so solution to connect IP-telephony be more sensible. In such way, you will be able to connect not only other offices, but storages, industrial occupancies.
How to set office telephones thanks to VoIP telephony?
First step depends on IP-telephony provider choice. Then you need to get virtual number, a service that presents mobile, landline or toll free number with code of appropriate country, city or mobile operator. These numbers can be of different types designated to various goals: for calls, SMS or fax.
Landline virtual numbers are always used for offices, they can be multichannel or just order toll free, which have already several phone lines. If you want to organize call center or just need independent telephone station, order virtual PBX with access to server where all data concerning calls will be saved. This service includes virtual number, free internal calls inside network, SIP accounts for cheap outgoing calls via Internet.
Office telephones: setting of virtual mini PBX
Telephony system penetration can be easy and comfortable, if you will take a solution to connect virtual PBX from Freezvon. This process takes only several days, but prices for connection will surprise you indeed.
After installation and connection of virtual numbers, you won't change contact information, because virtual numbers will not be attached to office location, concrete employees.
Changing of several parameters, connecting additional equipment after company expanding are possible via personal cabinet on our site or with the help of our specialists.
Buy Virtual Phone Number for office
If you have some questions, just ask our technical specialists who are working 24 hours without breaks and weekends in order to make your using of our services more effective and profitable. Find them via Skype, online live chat, email or by phone. We are always glad to maintain you in using our telephone services and make your telecommunication more effective.