Using IP-telephony services with option of toll free forwarding opens new great opportunities. In the procedure of business running, the success of company mostly depends on clients and their orders. Because of this, managers of company try to organize the work with customer service as well as it is available.
Details play the greatest role in it. Telephony is not an exception. As most of orders are made by phone, the corporation often seeks the best way in phone talks with clients. From this article, it's possible to gain useful details about numbers with toll free forwarding, so don't ignore the chance!
Getting into consideration the fact that clients prefer to call free, there is such phone number that gives such chance as toll free service. All the customers and other callers pay nothing for such call. As to user, calls are forwarded to any of comfortable devices: mobile or landline phone, SIP. Please, read more about this kind of redirection in order to use it without any problems.
Free calls for clients with Toll free forwarding
That's a number of free dialling for callers. It's accessible only in appropriate state, and citizens only of this country can call and reach company. And money will not be withdrawn from callers' account, call will be free for them. All calls are paid by the user of number.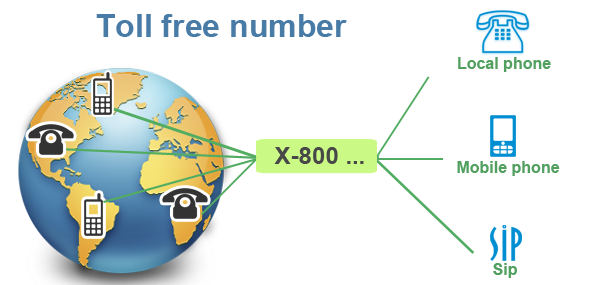 Toll free forwarding
As to possibilities of redirecting all calls, the user of number may get calls on mobile/local number, SIP device, Asterisk. So, as you see call forwardings are the same as for usual number, and any of them are accessible for choosing. The call redirecting is flexible, and may be change by number user any time he/she needs.
Why is it useful for subscribers?
Number with toll free redirecting can be used in any sphere where it is supposed to get calls from clients. Among the clients that are interested in getting Toll free 800 number, there may be banks, supermarkets, companies, internet shops, food delivery internet restaurants and fast foods etc. Every company can find this number being very useful, as Toll free 800 has such benefits:
Free calls for clients;
Access inside the country;
Workability without special equipment;
Opportunity to redirect calls to phone (cell/local), SIP;
Forwarding calls can be changed wherever the user wants in personal account;
Good image of company;
Creation local location in particular company;
Possibility of making calls;
Cheap incoming/outgoing calls;
It's multichannel with several lines.
Thanks to this, more and more clients will call your company for goods and services ordering, getting know additional information etc. And the increasing of the callers number means the increasing of company's profit.
PBX system could create new ability in IP-telephony world. This collection of VoIP telephone services consists of special IP address, SIP accounts, interior numbers, voice interactive menu for subscribers help, records of calls and others.
It is also possible to connect some additional service, such as voicemail , IVR, greeting message etc. All list of additional services you can see here.
Costs for toll free forwarding service
Many companies have already bought toll free 800 number. Be one of such lucky one now! if you need to get more information, just address to our technical support team. We are available in Skype, live chat online, e-mail or by phone. Contact us right now.