Providing reliable communicate channel is a primary task for modern company. New technologies offer many solutions of this question having these or that advantages and disadvantages. One of them is unlimited virtual number.
This service permits accepting large quantity of calls, SMS and fax messages from your customers and acossiates.You do not have to take care about lost calls, or your telephone lack of storage for SMS saving – all the problems are in the past.
You can remain online anywhere, organize big call-centers with minimal expenses, creating an impression of being on the territory where number belongs to. Such direct numbers can be used for personal contacts, for ex. if you have precious people abroad. Now please learn more about unlimited number below.
What is unlimited direct VoIP number?
This is virtual number, IP-telephony service permitting voice messages exchange in real time period, getting/sending messages, obtain faxes and many others. Digital combination is identical to ordinary phone number and consists of country/city code and other digits.
Peculiarity of service is explained by absence of limits for calls and SMS quantity. We mean you are able to continue working as much as you can without any limitations.
There are some types of VoIP virtual numbers:
For voice calls;
SMS (only for some countries);
Combined calls/sms and calls/fax;
Multichannel (toll free numbers);
Virtual PBX station.
All of them are designated for making various functions, however they work at high quality. This service will help to deal with them.
How unlimited direct number works?
This service works on base of IP-telephony. Unlimited virtual numbers are used for Internet data transmission that permits providing high level of reliability and connection quality in any situation.
Work of number depends coverage network, weather conditions and physical state of equipment: just pick a number, good connection and device for forwarding.
Such devices can be like that up to your choice:
Landline telephone;
Mobile phone;
IP-telephone;
Skype;
SIP-application set on computer, tablet or smartphone.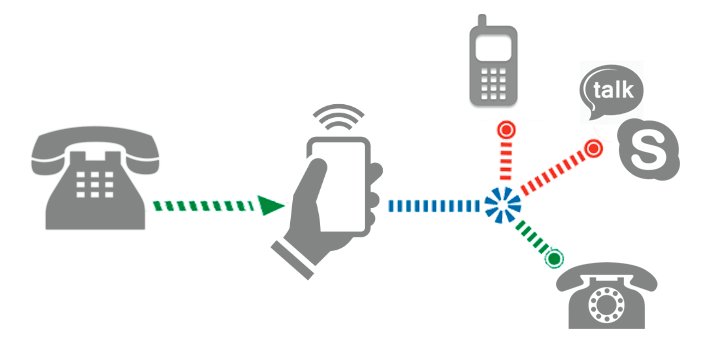 How unlimited number works
Last variant is more functional and allows not only receiving, but also making them, providing highest level of safety. We offer such apps as Zoiper or Xlite (free), which are easy to download.
Pros of using unlimited virtual phone numbers
Purchasing unlimited virtual number is the best solution for those, who prefer receiving a quality and comfort in everything he owes. This service will provide you and your affairs with range of pluses:
Qualitative and reliable connection with high speed of signal;
Absence of physical attachment;
Saving telecommunication;
NO additional equipment;
Possibility of multichannel setting;
Wide list of connected services;
Tying of all devices to one unique number in spite of geographical location;
Absence of limits for accepted calls and messages.
What is important that if you move, number will work even if your new address will be in another hemisphere.
How much unlimited virtual number costs?
Pricing for using virtual numbers consists of two parts: fee for connection and monthly fee. Every month fee depends on local rates of region, redirecting and connected additional services.
For example, call forwarding to another phone must be paid according to used rate: redirection to Skype and SIP is free. Redirecting to mobile is paid. Full list of prices for served countries and types of numbers see below.
Costs for virtual phone numbers from Freezvon
In case of questions appearing, contact our technical support. Our consultants work everyday without a breaks and weekends. Contact them via email, livechat, Skype or by phone. We work for supporting your comfort, safety and successful services of functioning.