An ability to pay for VoIP telephone services from Freezvon with Perfect Money method. Our worldwide community lives in the era of information and distant access to everything we need. Nowadays the most services and even goods are bought online without need to go somewhere.
The same concerns VoIP-telephony. The service can be ordered and paid through the Internet from any point. From this article you could pick all details that are connected with this service in practice.
Freezvon Company also offers to choose this payment method from available to pay for obtaining our services. These payments are recharged quick to give you a chance to order a phone number at once and start using IP telephony as soon as possible. Main advantages of such ways will be stated in following article. One of the most affordable payment systems is Perfect Money. It is a prime financial service created in 2007, allowing to render instantaneous payments and orders safely over the internet connection. Payment service gives you a chance to pay quick and save online any time of day and night when you pick it and pay for some phone service.
Perfect Money possibilities and advantages of usage
The mean is becoming more and more popular nowadays, as it allows to convert funds into WebMoney, send them to a banking card, hold your capital safer on electronic wallet and enjoy interests. See the following preference of this below:
Making online payments;
Fast working resource;
Receiving VoIP services via Internet;
Standard registration;
Multiple capacities with money transfer.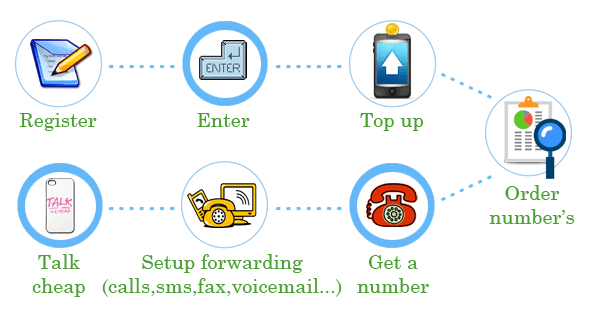 Ordering process for our telephone services
All these priorities are favorable for people who have no time for long bank queues, who are active and decisive, so try it on own experience.
Worrying about security?
User authentication. If a login IP-address is changed, a letter is sent to the e-mail with the PIN-code for the change confirmation.
SMS authentication is the most excellent and reliable way of protection from unauthorized sign-in (hack).
Code card. Providing the user with a graphical image of the code, which is sent to the e-mail.
Perfect Money does not require any monthly fees, that is why each customer can easily create an account and settle-up for a direct number with the resource.
Categories of offered virtual numbers from Freezvon
From Freezvon it's possible to get DID numbers, which are for such operations:
Calls;
SMS;
Fax;
Toll free numbers (free calling by subscribers);
Multichannel (lots of lines for distributing of calls).
Get any of this type and appropriate redirections of various choices. Look at pricing here.
Purchase of a virtual number via Perfect Money
Please, register on Freezvon and order it in your personal cabinet by specifying a location of the desired number. It is also necessary to set up call redirecting to directions where calls will be dispatched to. For example, it can be a local or a cell phone, or SIP-application. It must be stressed that diverting to a particular number is charged while forwarding to SIP-account is free, so you must take note of it.
So, everything you should do to get the number is:
Register to Freezvon.
Fill up your account on the website using Perfect Money.
Purchase has been done now!
All in all, if you want to buy VoIP services in our company, pay via Perfect Money which is the most comfortable way to order. Just contact us and feel free to ask any question you like. We render only high quality VoIP telephony at the lowest rates and help you be on call in any part of the planet. Do you think it is impossible?
Prices for virtual phone numbersBuy Virtual Phone Number via Perfect Money
Having decided to use the service, pick Perfect Money amongst other payment instruments and confirm that you have accepted it. Number is validated within 24 hours after paying. If you have some questions, just apply to our support team for help. We are availbalbe in Skype, live chat, email or by phone.