We offer various telecommunication systems, which help you to support your telephony including internal and external calls, statistics, additional phone features, SIP accounts. These services improve the work of your employees thanks to the monitoring and access to every incoming or outgoing call from customers, associates or business partners. We propose you to check the following VoIP servers you can install for different purposes.
What is VoIP server and how it functions?
That is a software, which is able to support the whole telephony for office or home on base of IP protocol.This service works via Internet connection. Thanks to VoIP server, you are able to manage your external and internal calls, plus you can monitor the statistics, record the conversations, for example between manager and customer. It is possible to connect unlimited quantity of SIP accounts, security system for saving all data, create contact book of necessary subscribers, own IP, conditional call forwarding according to time or date and many other services.
Now we would like to present you most widespread VoIP servers to use:

.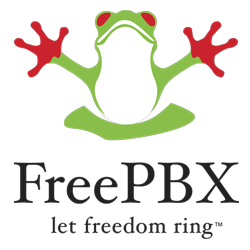 .
Softphone app for incoming and outgoing calls
We also recommend great apps for making and receiving calls via Internet, so called softphone. They can be used on various operating systems devices like Android, iOS, Linux, Windows etc. The most widespread softphones like Zoiper, Xlite, Linphone, PortGo, Twinkle and others. Having this app on your device you are able to get free calls and make outbound calls at low (local) rates, even if you dial any foreign country.
Install free softphone with virtual number
CRM management system with VoIP telephony
That is an application software for organizations, designed to automate strategies for interaction with customers, in particular, to improve sales, optimize marketing and improve customer service by storing client information and the history of business relationships with them, creating and improving business processes and the subsequent analysis of the results. We recommend to install Bitrix24 system and monitor your clients and employees work.
1C software for handling the account affairs
That is a special system quite widespread in Russian companies for having deal with the accounts and the organization of employees work. This sytem includes the solutions of the company activities automation, organization of trading, servicing entreprises, control the financial holding and separate corporations, payroll job, control the human resources, different industry business solution and purpose-built solution.
How to use 1C system with virtual number
Advantages of using VoIP servers systems
Easy interface for incoming and outgoing calls management;
Cheap costs for outbound calls;
Ability to control the work of employees;
Strong security system from hacking;
Recording of VoIP calls;
Background music service;
Fast telephone penetration and reduce of expenses;
Contact book of important people;
Possibility to run the business on local or international market.
How to connect virtual numbers to VoIP server
As you know it is possible to get several virtual phone numbers to your VoIP server system. Freezvon offers such numbers in over 125 foreign countries. You can order as many numbers as you want to your VoIP-server. This phone number can forward calls to the following destinations:
SIP;
Mobile or landline.
Not so long ago we could only dream about inexpensive rates for international and long-distance communication, and the organization of a modern call-center was a rather complicated and expensive procedure. But with our support team you can get all answers for your questions via Skype, email, help chat or by phone numbers 24X7.