Countries that demand identification documents in order to connect virtual number. Freezvon offers IP-services for various foreign countries. About 120 states permit to purchase telephone number for staying closer to local citizens.
However, there are several countries that require personal identity documents before connecting the phone number. You can see the list of needed documentation for evidence of your identity and also the list of countries that demand real personal documentation before VoIP number connection.
List of documents for connecting the virtual phone number:
Colored passport scan with registration, or;
ID-card with residence registering (2 check about payment for public utilities at least 6 months older)
*If you want to work with us as a legal entity, you need to provide documents confirming the company's registration as well as personal IDs of the director or company's representative.
Please, note: all the Toll Free (numbers 800) require IDs in any case.
TOLLFREE numbers, like National numbers, accept calls only within the country.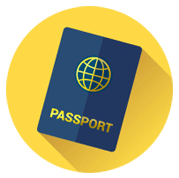 Documents for further virtual number from Freezvon
Costs for virtual phone numbers by FreezvonBuy a virtual number with documents
Our support team will consult you concerning all doubtful items in connection of virtual phone numbers and other questions. Contact us via Skype, email, live help chat or by phone. We are always ready to help you, so do not hesitate and your usage of VoIP telephony will be easier and more comfortable. Following the rules leads to correct usage of phone services you choose.