Utilization of conference calling facility makes all barriers effaced and destroyed forever. Everyday people are looking for new and more convenient means of talking because without it no one can exist. Modern technologies for today allow us carrying conversations without limits. VoIP telephony is a way to broaden the barriers and open new vistas for you. Nowadays no businesses can be conducted without virtual phone numbers with conference call option. It is one of phone services provided by Freezvon.
We try to make as many efforts as possible to satisfy our customers: to increase their profits and save their time with the help of our service. Freezvon has an ability to offer virtual services in every country you're interested in. As a provider it serves about 120 countries in all over the world. Learn more about supplements for virtual numbers. If you need to ameliorate work of your virtual number, remember that except conference call Freezvon has other additional phone services, which help your number be more functional as blacklist, click to call, hold a music, voicemail etc. More detailed and full list you can observe in this article.
What is conference call feature?
Conference call is an additional but very important service of virtual telephony facilities based on IP-technology. The key difference of such a solution is a usage of the world wire web for voice transferring. The service makes simultaneous talks with several subscribers possible. Besides, they can be situated in various offices, cities, regions or even countries. Commercial telephony has a range of useful features and additional options, but it occupies a special place, because of possibility to speak with several subscribers at the same time, so, it simplifies the business.
How does conference call feature work?
The functioned is often used during negotiations in order to save on trips and to save time. It helps to solve different issues in an hour instead of days. No need to organize expensive meetings or seminars with colleagues from different regions, to rent premises and catering service, no need to spend time on transport. Besides, it's an opportunity to hold such daily meeting for operative company management.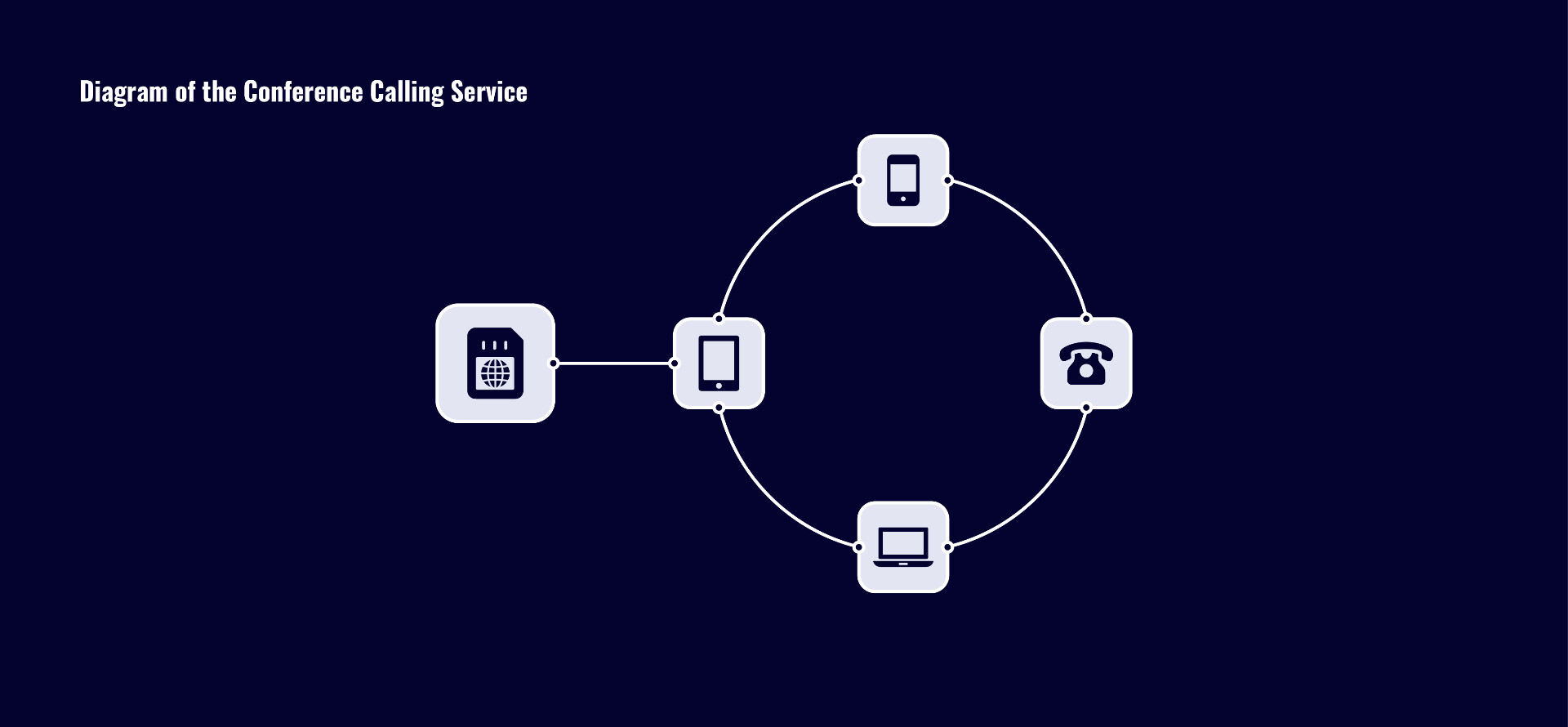 Diagram of the Conference Calling Service
Every business strives to solve different appearing issues fast. Especially, this matter is front and center for projects, when participants are situated in distant places and a necessity of connection with different people appears every day. That is why conference call starts to be irreplaceable. For individual purposes this service can be helpful too.
Business trips are not necessary anymore. Connecting any employee to a meeting is very simple now with conference call service. Managers can appoint meetings and collect heads of branches in separate regions almost instantly. No need to book a room and gather in one office due to VoIP-telephony and conference calls.
What is the price of this feature?
The possibility of simultaneous communication with several subscribers around the world (available only when connecting a virtual PBX).
Costs for virtual phone numbers
Conference call service and its benefits
The tool is widespread in many offices, so every company can find it useful. Moreover, virtual telephony combined with such a useful function will allow you to save a lot on telecommunication, transport costs and administrative costs with maximum convenience. Conference call is a very important part of the business relationships with several significant advantages:
Independence from subscribers' location;
Unnecessary to have special equipment;
Economy of time and money;
Possible frequent meetings;
Simultaneous talks.
Receive a virtual phone number and connect this service to use cheap simultaneous communication with a high quality, so you could save money and time with this simple and so helpful service.
Please, ask our specialists for more opportunities with our VoIP-telephony solutions. About connection processes you can write a request to our specialist via live chat, Skype or email. We are always ready to help our customers in every situation connected with IP-telephony services.