As today's world of technologies is developing faster than ever, we can see a lot of novelties implemented in our professional and quotidian life. New smart gadgets, household equipment, advanced transport types – everything is constantly updating. Among this colorful diversity its place is honorably given to VoIP telephony. It provides not only virtual numbers with their huge possibilities but also numerous additional options including voicemail service. Opportunity to set more and more features broadens performance capabilities and improves functional efficiency.
An option of leaving a voice message can be helpful for everybody. There are often moments of being quite occupied with no possibility to attend the phone, or when it is being off on purpose, and then a caller can leave a message if the matter is of big importance. Voicemail is also a good option to avoid missing important calls from consumers. Any of the VoIP services provided by Freezvon are aimed at benefit your communication over the phone either private or on business.
What is voicemail feature?
One of the popular phone services, which is used to improve client communication is voicemail feature. It implies the possibility of leaving a live message by the caller in case the phone is busy or switched off. The subscriber can listen to voice message left later on his availability.
This option is carried out as all voice messages are being forwarded to email right after a message is left. Thus, you are no more to worry about the dropped calls. When the caller leaves message, the user will be able to listen to it on his mailbox and call subscriber back at his earliest convenience.
What you will get with VoIP voicemail features:
Not a single call missed;
Possibility to listen to voice messages left by callers at any given time;
Obtaining a short information on a subject matter call subscriber back;
Comfortable format of audio for listening;
Setting of voicemail when the phone is unanswered or busy;
Just buy virtual numbers and get this option for FREE or for low rate if message is your creation (we just record it).
How voicemail feature works?
How in general does voicemail work? Overall it's very simple and fast. In case telephone is busy or you can't attend, your callers hear a request to possibly leave a message for you. Afterwards this message is redirected to your mailbox and can be listened to anytime by the owner of virtual number. You can create your own text of voicemail – some original phrases, jokes, whatever you want and considering purpose of this service.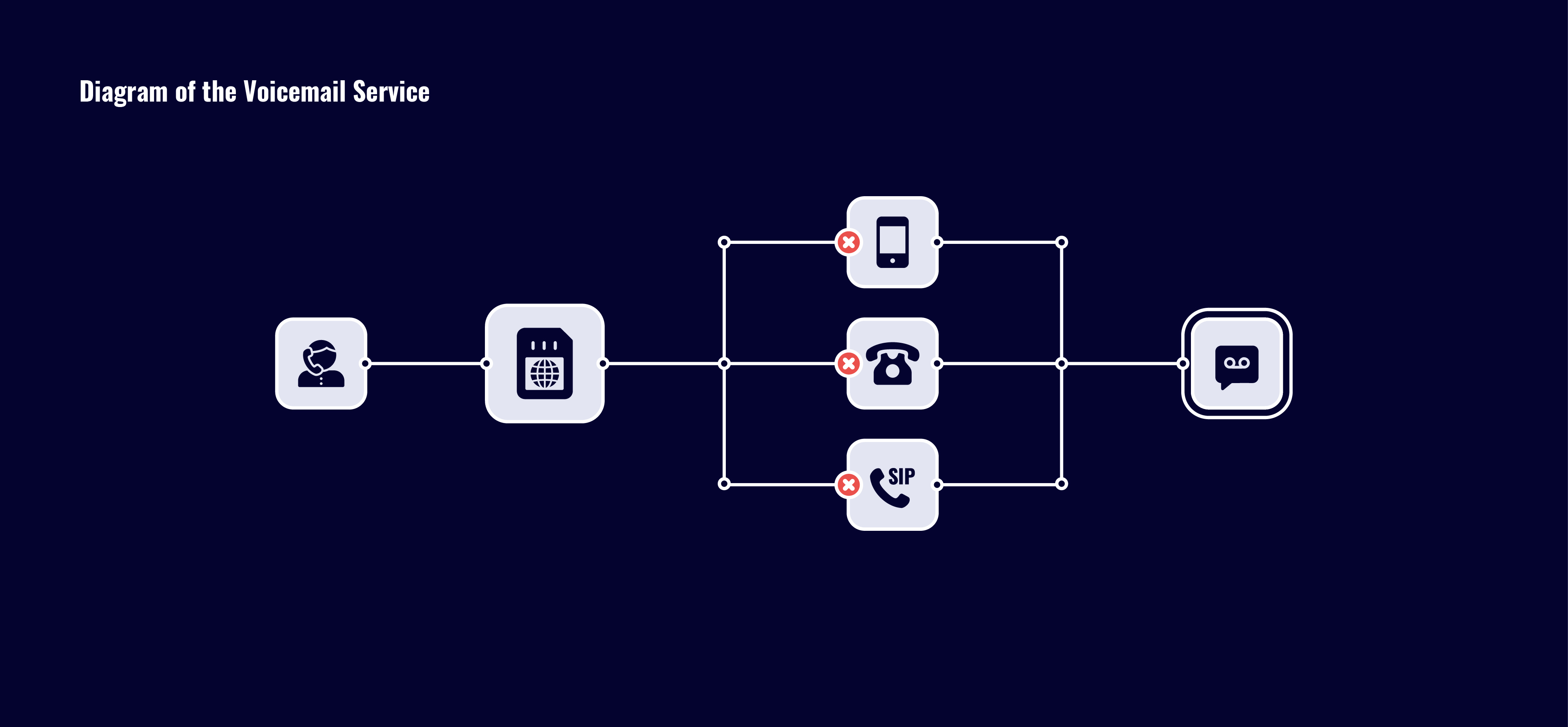 Voicemail feature working moments
Except voice message itself, person can find out also the number of subscriber, so it implies also an option of calling back. The format of message is very comfortable of further listening to, resending etc. Everybody can listen to even old messages, which makes it to be very comfortable and easy in usage.
Voicemail features show that you worry about the fact that people need to tell you something and in spite of anything you give them such opportunity even not talking to them personally. For using this option, get virtual number and it would be great combination for your telecommunication.
How much does voicemail feature cost?
According to pricing it must be mentioned that recording of audio costs free, if you want us to get audio recorded (depended on quantity of words).
Creating an audio recording based on your text - from $20 (depending on the number of words).
Free installation:
Your finished audio recording;
Our standard audio recording.
Pricing for additional services
How to order voicemail service?
The process of installing this service is also very simple. Before setting up of voicemail, the person should connect virtual phone number. All the prices are fixed here. It is important for further workability of virtual phone service – voicemail.
So, how to do this?
Sign up to site of Freezvon;
Top up your balance (on sum of connection for number and voicemail);
Order number via your profile;
Write request to connect it via your profile after connection the number.
See all the benefits right now after immediate ordering of service.
Freezvon makes all possible to simplify your usage of virtual telephony and to provide for a good quality of connection, a vast range of numbers and low rates on calls, and give you opportunity to set any of the additional functions, including voicemail.
If you do not understand something or have any problems, be ready to contact our technical support team. All questions will be answered and all problems will be solved. Here you can write what you need regarding service or feature. Our technical specialists will consult you online via email, livechat, Skype or by telephone. Just contact us!