Forwarding determines where the incoming call goes. It can be a telephone number (mobile and landline) or a SIP account used via softphone, IP phone, or virtual PBX.
You choose the simple 1-destination forwarding setup at the time of purchase. You are free to change it at any time after connection, both type and destination.
We can set your forwarding by a simple scheme for several destinations or a complex forwarding scheme depending on circumstances (e.g., business hours) upon your request.
If you require different forwarding destinations depending on whether the user is online, can answer the call, or are already on another call, such forwarding is called conditional, and Freezvon technical team will help to set it up.
What is Conditional Call Forwarding?
To make it easier to understand what conditional forwarding is, think back to your cell phone. If you are out of range or the phone is busy, the person calling you may hear different answers, be redirected to a voicemail box or another phone number.
The same could be true for virtual telephony. The call is forwarded depending on the conditions being met. The conditions in question:
The line is busy (you are already on a call with another caller);
The call is unanswered (you cannot answer the call);
The phone number is unreachable (the phone is out of range or turned off).
How it differs from simple (unconditional) forwarding: different forwarding scenarios are used, while in the simple call forwarding scheme the call can be redirected only either to a SIP account (group of SIP accounts) or to a phone number.
How it differs from a complex forwarding scheme: It depends on the situation, not on specifically defined parameters such as business hours, holidays, or even geography. Plus, these services can be combined. For example: during working hours, you get a call forwarded to a group of SIP accounts used by sales managers. This is a complex forwarding scheme. And if, in this case, none of the managers is online / are available, the call goes to the supervisor on their cell phone. This is a conditional call forwarding.
Another example of conditional call forwarding: The receptionist answers company's incoming calls. If they can't take a call within 30 seconds, it is forwarded to the administrator or to voicemail.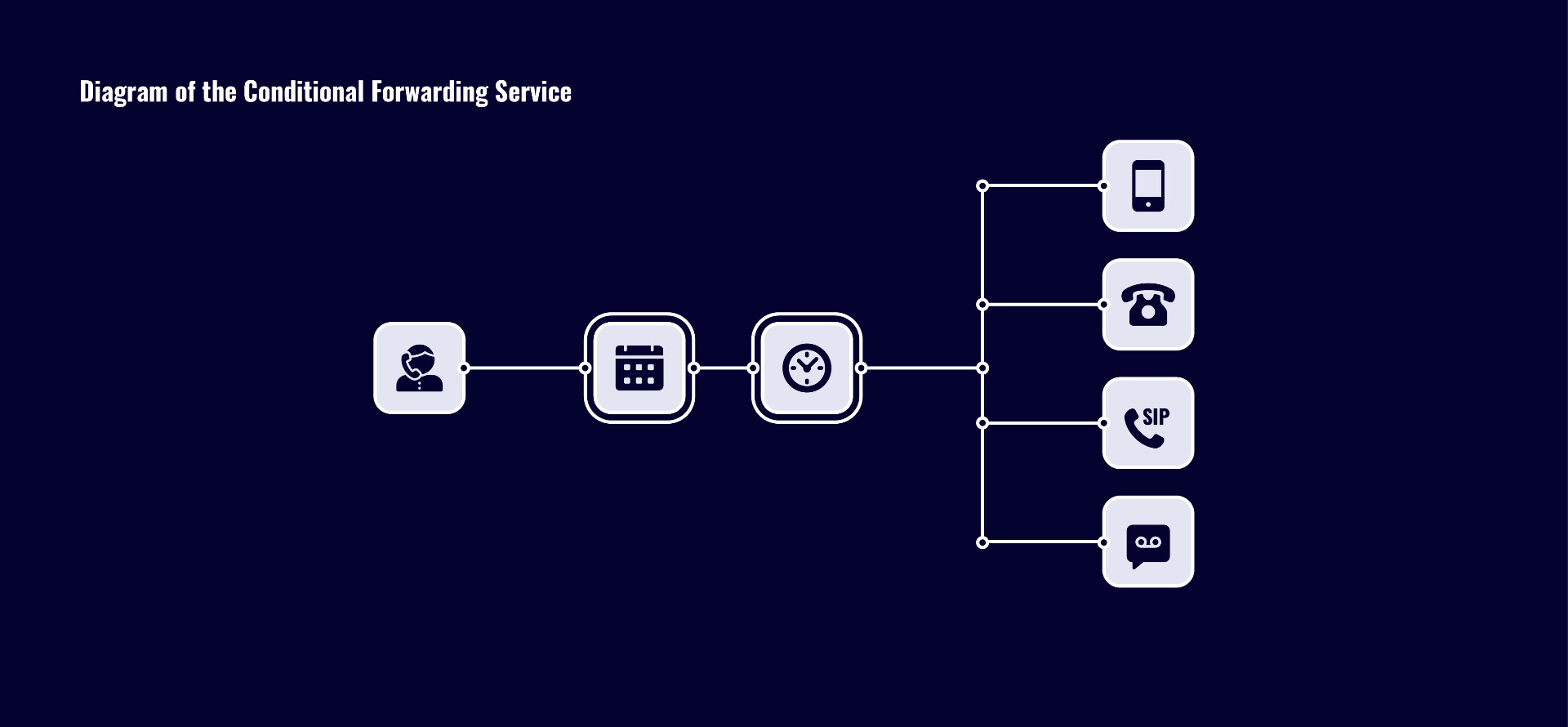 Scheme of the Conditional Call Forwarding service
Where Can You Forward Calls to?
You can forward calls to different devices, such as:
Mobile or landline phone through a phone number;
Computer, laptop, tablet, smartphone, using SIP applications (Zoiper, Bria, etc.);
IP-phone;
Asterisk.
The main rule is that for any sequential forwarding (i.e., when there is a specific sequence for forwarding a call, such as from manager A to manager B to supervisor C) only 1 phone number can be used, and only at the end of the chain.
You can also set up voicemail. That way callers can leave you voice messages when you can't take their call. You will get them to your email box as an audio file you can listen to.
How Much Does This Service Cost?
You can connect conditional call forwarding for any virtual number with a call function.
The cost of setting up conditional call forwarding for 1 number is: $20.
There are three types of conditions for conditional call forwarding:
Not available;
Busy;
No answer.
How Do You Enable Forwarding by a Call Condition?
If you don't have a connected virtual phone number yet:
Sign up for a Freezvon account.
Refill the balance by any convenient way of payment.
Order the number.
After connecting the number, send a request for this service to our support team, specifying how the call forwarding should be enacted for each of the conditions (not available/busy/no answer).
Our support team answers any questions you might have. You can contact us by chat, messenger or email, as well as by phone. Contact us now.