Multichannel virtual phone number is intended to receive and conduct a large volume of calls. When calls come to a multichannel number, they are distributed among idle agents. This way, call center agents could respond to several customers at once without making them wait for long. Freezvon connects as many channels for incoming calls and SIP accounts for outgoing calls as you need for efficient work.
How to Order a Multichannel Number:
Sign up for the website using a signup form or via Facebook, and log in to your account if you are already signed up;
Check the availability of the multichannel number of the country of your interest by submiting request from your personal account;
Top-up your balance for the total sum of setup fee and monthly fees of the chosen subscription for 1, 3, 6, or 12 months;
Choose the country;
Choose the type of number (Calls);
Choose a city or operator code;
Set up forwarding for receiving calls (phone number or SIP);
Choose the subscription period (for 3 or more months, we provide a discount from 2 to 18% off the monthly fee, depending on the subscription period and type of the number);
Check your details and complete the order.
Submit a request from your personal account to connect additional channels;
Wait for a letter to your registration email about connecting additional channels.
Service Features
A multichannel number is a VoIP service that works by forwarding calls to predetermined destinations. Calls are forwarded through an Internet connection, and a virtual number doesn't need a SIM card or special hardware.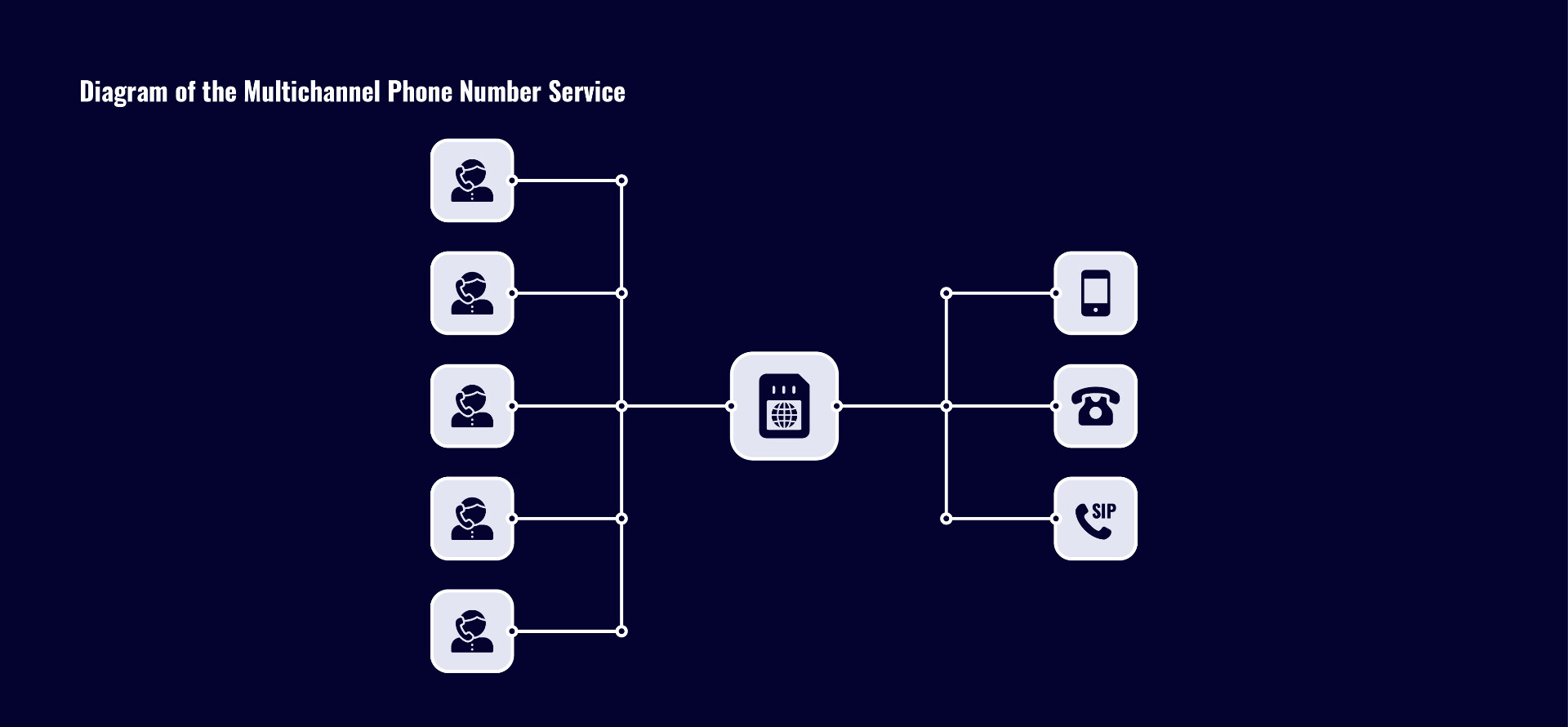 Diagram of the Multichannel Phone Number Service
You can receive calls to different devices:
IP phones;
landline or cell phone;
PC, laptop, tablet, or smartphone with an installed SIP app.
You could assign different forwarding destinations on conditions such as business hours and days off.
VoIP telephony enables you to purchase not only phone numbers from your country but also from other countries. All the while, costs for multichannel numbers are lesser than if you connect several numbers.
The other party will perceive your number as local because it will have the same phone country, city, or mobile operator code, and they will be able to call you by local rates. It creates an effect of presence in the region, and it is conducive for the presentation of your business, even if your company provides service with a remote virtual office.
How to Get More Calls with Multichannel Number
Since people rarely are glad to wait for long, a company can decrease missed calls and the probability of losing clients by using multichannel numbers.
Standard virtual numbers have a limited number of channels by default:
Mobile numbers have one channel for incoming calls;
Landlines have two channels.
There is an increase in incoming calls with seasonal demand, successful marketing campaigns, or business expansion. The default number of channels could be incapable to handle it.
You can solve this issue in two ways:
Order the required number of additional channels for a mobile or landline virtual phone number;
Use a toll-free number that is multichannel by default and can receive up to 100 calls at the same time.
A toll-free number is something big enterprises use more often, as the owner of the line is charged for incoming calls, not the caller, so service costs of this phone number will be higher.
Please contact our support team to find out whether it is possible to add more channels to a landline or mobile number from a specific region. It depends on the type of the phone number, as well as the operator and country.
Outgoing Calls with Virtual Multichannel Number
How many simultaneous calls could be done from a virtual phone number at the same time depends on how many SIP accounts you have. For any VoIP number for calls, Freezvon provides up to three SIP accounts for free.
To make outgoing calls, you need to do the following:
Receive a SIP account after activation of your phone number;
Download an app for calls for an available device - it could be an office computer, a laptop, a smartphone for an off-site manager. IP phones could be used instead of an app;
Register the SIP account on the device.
Predominantly, a company uses a complex of telephony tools to manage calls - a multichannel virtual phone number and an IP PBX. A cloud PBX could be used to set a call forwarding script to distribute calls among agents, so the call center would respond to a large number of requests on time, and satisfy the customers. Besides that, you can create SIP accounts (extensions) in the IP PBX. Extensions could be also used for free calls within your team. And, for group communications, there are conference calls.
Advantages of Using Multichannel Phone Number Service
It's economically justified to use multichannel virtual numbers. Businesses won't have to allocate large budgets to hardware installation, the connection of telephone lines, as is the case with analog telephony. At the same time, it's easier to establish communication between several offices, given that all of them can use the same multichannel company number.
The list of advantages of multichannel phone numbers includes:
Being able to work as a team, receiving and making calls with the same phone number;
Affordable setup costs;
It's easy to scale the corporate telephony;
Cheap outgoing call rates and free SIP forwarding for incoming calls*;
Location doesn't matter. A company can move and open new offices, using the same virtual number.
*SIP forwarding rates for incoming calls could depend on the country and type of the number.
Multichannel Phone Number Setup
Wide coverage of virtual numbers allows businesses to find customers around the world and provide high-quality service to them. Freezvon offers more than 120 countries where you can buy a multichannel phone number.
Support consultants will help to calculate the cost of purchase for this service. The subscription fee could depend on the number's type (landline or mobile), country, and the subscription term.
Adding channels for incoming calls or SIP accounts (lines for outgoing calls).
The cost of additional channels is from $5;
The cost of an additional SIP account (lines for outgoing calls): $5 (one-time).
If you have any questions about purchasing a multichannel phone number, virtual IP PBX, or VoIP services, please contact Freezvon Support in chat, via email, or by phone.