Having virtual telephone number for fax avoid using heavy equipment just redirect. This service will provide persistent fax reception 24 hours a day, 7 days a week. Telephone line will be free all the time and no need to use fax appliance.
Setup fax forwarding and all messages will be sent to email. It is represented by a virtual number that provides redirection to email address. In this article you will learn more about such kind of forwarding presented by Freezvon.
The company's customers won't call and ask to accept your fax. Forget about using heavy fax appliances, set fax forwarding with VoIP number. Freezvon presents products of high quality, which could save your time and money. Create new possibilities with VoIP-telephony features thanks to Freezvon company.
What is fax forwarding process?
This is a procedure possible only with virtual number for fax. This number helps to redirect fax messages to email only for free. The system will satisfy all subscriber's requirements. Besides, if you use this facility, you do not have to use heavy machine anymore. All fascimile message texts sent to number will be redirected to email in PDF format. It is often called fax to email feature. All what is necessary for fax is any PC or personal digital assistant with access to Internet.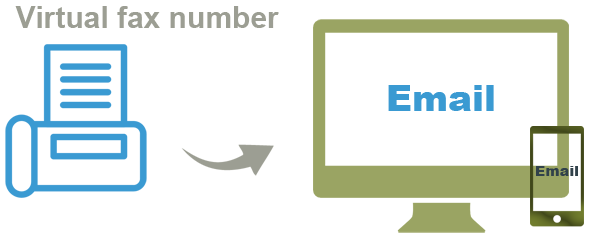 Virtual fax forwarding service
Irreplaceable goods of virtual fax forwarding service
Check out what catchy preferences of virtual fax forwarding with our telephone numbers exist:
Multichannel telephone fax number, which is always free and it belongs to its owner even if he moves to another town or changes his office's location;
All the received faxes are kept in electronic form that makes system of documental database easier to use;
It reduces costs on communication and excludes costs on paper and fax toner. There is no need to buy, keep and repair any equipment anymore;
Company's phone lines will be free all the time. The workers get a brilliant opportunity to get and to read messages anywhere where there is access to web, without spending their time for waiting in the queue in front of machine;
Use of such service enables to use your worker's work time efficiently, while the number is always available. It will be received immediately anytime without using a phone line and fax machine.
When it's necessary to create own well-fixed virtual telephony system, IP PBX is an excellent choice. Form it with such VoIP services as SIP-accounts, own IP-address, internal numbers, IVR voice menu, statistics of calls, free numbers as special offer and others possible services.
Prices for virtual fax numbers you can check by clicking on the button presented below.
Costs for virtual phone numbers for fax
Buy virtual phone number for fax forwarding
In order to get VoIP virtual number you need to make such actions with Freezvon. Pay attention to several recommendations for creating an account: on our website
Get registered to official website;
Filling balance with amount;
Picking essential characteristics;
Choose subscription period for the number: 1, 3, 6, or 12 months (2-18% discount based on the period of subscription and the price of the number).
Ordering has begun.
Virtual fax number will give a wonderful opportunity to enhance functioning of your database system and make the process of reception pleasant and easy.
If you are interested in this service, we will help you to order it and technical support service will provide all the necessary settings. Just contact us and get all useful peculiarities concerning fax forwarding service.