Great device IP telephone for receiving and making calls for office or home usage. In modern life, the possibility of usage different technical devices hugely increased. IP telephone allows fulfilling this aim and putting down your expenses.
Thanks to IP telephony calling rates are formidably lower, so then international calls are not so awfully expensive. IP-telephone appeared thanks to the development of IP-telephony, which helps to redirect data via Internet.
Every day more new people want to set up this device, especially that's popular among enterprisers, owners of big companies and managers. Let's see more detailed info according to IP-telephone device. Except this convenient facility people can pick another service for call operations. It's known as SIP-application. Get calls, and also make calls (first, write us about the wish of SIP installation and out specialists will give you all necessary settings). It's possible to call abroad at low local rates. Just read here more concerning this feature.
What's IP telephone and how it works?
IP telephone is a modern device for sharing voice messages. It looks like an ordinary telephone set, but the way of data reduction is different. Principle of its work is in transmission of messages via IP network without telephone wire. This device can have connector for USB and for telephone cable or even can work thanks to wireless connection. If you have a desire, you can connect the garniture or connect the telephone to virtual PBX.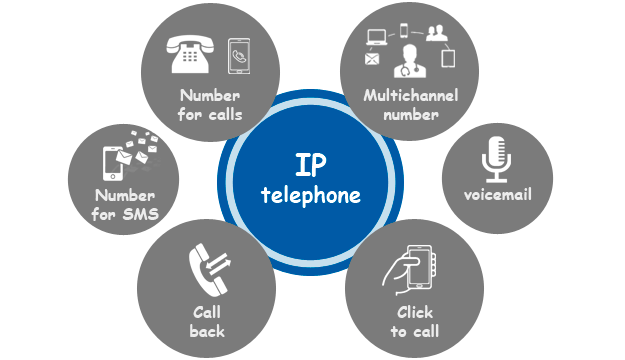 What's IP-telephone and how it works?
Such choice for telephone system of the office will help to reduce expenses for connection, to get the range of advantages among what you may find:
Convenient forwarding to any telephonic device;
Function of call minder;
Conference calls possibility;
Indication of subscriber status;
Absence of wire and cable connection.
A user can quickly redirect call to any other devices such as local telephone appliance, computer.
Comfortable call minder will help to listen to and elaborate all requests received in a period out of work. Therefore, all your calls will be answered.
Possibility of conference call will help to more than two subscribers to have a conversation at one moment.
Subscriber can also install status according to what you can be identified as online or offline. If you're planning important meeting you can indicate a status "Do not bother". In such case, call will be blocked, but subscriber has a possibility to record voice message for you.
Services expanding functional opportunities of IP telephone
Fully-featured IP-telephone that offers the connection of DID virtual number . According to personal needs, you may connect a number for:
Receiving calls;
Getting calls and sms;
Getting calls and fax;
Receiving fax messages.
Connecting one type of virtual number, it's possible consequently to accept and make calls or both calls and sms. One more popular service in sphere of IP-telephony – numbers for calls and fax. If you have such service, you need to solve your personal problems without being present. Sharing fax messages with foreign colleagues became easier.
Buy VoiP additional services for maximum optimization and better functioning of device. To obtain a virtual number and services from Freezvon. More detailed information you can see here .
How to make outgoing VoIP calls via IP telephone
For using IP telephone and making outgoing calls with its help you need to complete the following actions:
Top up your balance from $10;
Get SIP-account;
Set IP telephone;
Make calls with low rating.
You may buy virtual phone number, which will be visible with outgoing calls such service is known as Caller ID. Now you have a possibility to get back calls from subscribers.
Rates and coverageGet virtual number for forwarding to IP-telephone
About unclear questions you may ask us in live chat, Skype, email or by phone, where support team can inform you in more detailed way. Contact us right now Utilize modern technologies, economize corporative means and increase efficiency of your business thanks to VoIP telephony services.