Try to examine all beneficial items of virtual multichannel number from Freezvon. Your office phone is ringing off the hook with an incredible number of incoming calls? Your customers have to wait for an answer, listening to the boring beeps of "busy" tones in the telephone handset?
Suppliers and customers lose their patience when they cannot get through to you? How to solve such problem? Solve it simple by connecting a virtual multichannel number from us and forget about missed calls and lost customers. So, you can give up the international and long-distance analogue telephone communication and forget about the bills to come.
Let's take you are opening a company specializing in the sale of specialized services. Your plan is to open several branches in different parts of the city under the control of a single central office. At the beginning of your business activity you will need to hire a large number of people and coordinate their work. The optimal solution would be to connect the multichannel number and establish a single call center. Thus, you delegate the duty to test the different branches directly to the call center employees.
What is a multichannel phone number?
This number is VoIP service offered by Freezvon. It is a regular city / cell phone with an unlimited number of lines and possibility of redirecting to various destinations. The difference to a service of the analogue connection is the lack of reference to the region of the coverage. It can be used outside. At the same time, a cost of outgoing calls is much lower. The data transmission is enabled by IP network, instead of a line. Thus it works somewhat different from the analog services.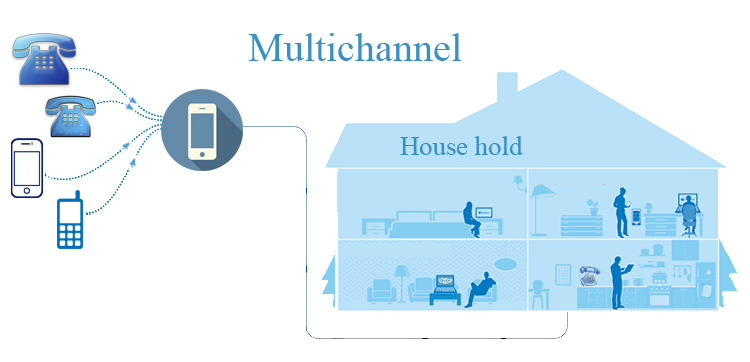 Multichannel virtual number
When you feel that's not enough for you to have only virtual phone number, connect SIP account for making calls to local and to international directions. Our manager will send settings and instructions to your email. Install special programs as Zoiper/Xlite, get all settings from us and use it.
How does a multichannel number work
Virtual number has just the same functionality as the analog telephone services. However, it renders the customers more interesting opportunities. Incoming calls are forwarded to any device on the owner's choice:
City phone;
Cell phones;
Computers / Tablets;
SIP-devices.
No additional settings are required; all accepted calls are readdressed to a free agent. Data is transferred via the SIP protocol, which improves the quality of communication and reduces tariffs.
Multiline phone number for enterprises: benefits
Multichannel phone number is a strongly demanded service for the manufacturing companies. The connection of this service will allow for efficient talking between the employees of different departments, production workers and staff of the coordinating office. Large enterprises are in need of rapid internal and external communication. The number of international companies is constantly increasing.
This allows you to quickly share information, ask for help/order the delivery of raw materials to the shop, to coordinate the production and deal with many other issues.
In addition to the advantages of its use there are:
The ability to combine all the contacts the office and production under one number;
Reducing the cost of services;
Improving the quality of communication;
The ability to accept and to make unlimited calls;
Effective control of employees;
The ability to receive calls at any convenient device
Ability to connect additional services
It is much easier for the clients to memorize a single point of contact. Combining all of the contacts will optimize the communication procedures between the office staff and the company. Workers and office staff do not have to specify contact information and call back several times. Switching is performed by pressing a single key in tone mode.
What costs are for such numbers?
Tariffs of this type of phone service are much lower, so the costs of services decrease significantly from the first month of use. At the same time, you are significantly increasing the quality of talking. Our company is making every effort to make the use of our services comfortable, easy and enjoyable for the client.
Get multichannel number from Freezvon
In order to receive virtual number from our company, follow the next directions, which are the simplest one:
Register yourself to Freezvon;
Put some money to balance;
Order desired number now!
Number will be active within 24 hours, just check your email from time to time in order to see the notification about multichannel number availability. Now you are full-fledged user of your multichannel number.
Buy virtual multi channel number for enterprise
For more details contact our technical department via Skype, livechat or email. It works 24-hours per day, so it's possible to get us every comfortable time. If you are going to know more you will be able to ask our technical team.