Virtual telephony that can be considered as basic platform of reliability and stable relations. Our life is nothing without communication over phone and modern technologies in modern life nowadays. Almost every person is using smartphones, computers, laptop every day and hour or even all the time.
That's why connection with such person is very simple: he is always in touch and is ready to answer the call. The world of talking also do not stand still – it develops to make your life easier. Virtual telephony is one of such modern technologies of IP telephony allowing phone talking without borders.
Freezvon as a provider of VoIP telephony features suggests different telephonic solutions as virtual numbers, IP PBX, SIP technologies etc. Low rates and easiness in usability make virtual telephony the first solution for widening communicative opportunities.
Virtual telephony: main definitions and benefits
That is the service providing options of phone talks various from analogue telephony. The user of virtual telephony is not tied to physical position and may move to another city, country or continent. Virtual telephony works due to forwarding of calls, messages and fax. Development of business and close communication with relatives and friends are not a problem anymore. Using simple and common used devices in everyday life, you may communicate with everybody beyond your borders in business and personal goals.
Virtual telephony differs from analogue one and obtains such advantages:
Possibility of changing physical position without damages;
Creation visibility of local presence in necessary part of the world;
Workability without equipment and sim-cards – just redirection of calls, sms and fax can be done to one of available devices;
Possibility to update your telephony due to connection of additional services;
Good connection quality and stability of work.
These and other possibilities make virtual telephony be unreplaceable service in modern life.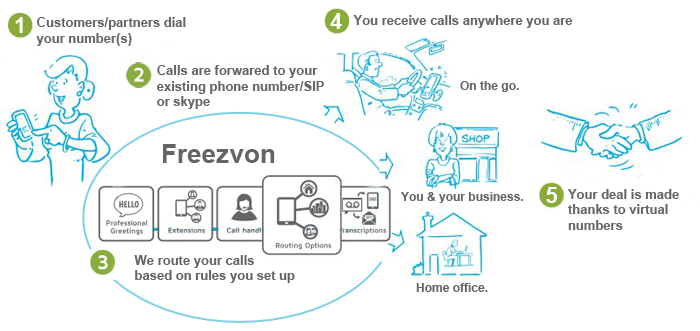 Services of virtual telephony
Services of virtual telephony from Freezvon
That gives opportunity to obtain virtual phone number in necessary country and any of accessible services to make the conversations over telephone more comfortable. Types of virtual numbers for:
Calls – opportunity to accept calls with forwarding to local/mobile phone, SIP app, Skype account, Asterisk (other server), IP telephones. Only redirecting to phone is chargeable; all other redirection types are free;
Sms – sms come to virtual sms number and are forwarded to email or mobile number (redirection to email is free);
Calls and sms – voice and sms messages come to one number and forwarded to the devices of your choice;
Fax – possibility to receive fax with redirection to email free of charges. Telephone line is never busy in such a way;
Calls and fax – number for receiving both: calls and fax to different devices without influence on each other;
Toll free 800 number – free calls for subscribers – all incoming calls are paid by number user regardless of type of forwarding;
Multichannel number – with several lines – every caller may reach your destination.
More about these numbers and their prices and coverage you may find out here. Except numbers there is an opportunity of connection virtual phone services.
They are:
Voicemail;
Greeting message;
IVR menu;
Conditional call forwarding;
VoIP outgoing calls;
Sending of sms/bulk sms etc.
More about services possibilities and their prices (most of them are free) please find here below. You will be able to connect them immediately after virtual number buying.
Costs for additional telephone features
How to become a user of virtual telephony?
Find these services interested? This process will take only several minutes, about 5. So, you need to:
Create personal profile on our site via registration process;
Recharge your balance;
Order a necessary number via personal profile.
Number is connected (it's fast and short process), then you'll get letter to your email notifying you about this. After that you may connect additional phone services that you need for your work.
If there are some questions, you may apply to our technical expert team accessible every minute for you. Contact us and create your telephony system more successful and profitable. Our company wants you to use only convenient and money virtual telephony services.