Big things in telephony begin with small changes, so choose 800 numbers with call forwarding function. With a smart system of call forwarding , you may rise business globally right now without intricate setting of it.
Start enlarging company and open a possibility for yourself to obtain clients from Europe, Asia, Australia and even America. Give yourself a chance to accept calls from clients all around the globe and let the world know about your high-qualitative products and VoIP services.
DID numbers from Freezvon in the USA, Russia, Austria and 120+ countries save your company's money and bring you huge profit. Having free calling capacity, number 800 is a great investment in any business type for lifting company's name on world market. Make your company be a world brand in your sphere, and thus start flourishing. Freezvon gives you necessary facilities for making all these things real: redirecting for Toll free in any country is not an exception. There are many helping additional services as call statistics, voicemenu, click to call and others as helpful supplement.
How to become right user of 800 number feature?
Nowadays Internet technologies may be available for any corporation. And independently from the fact that you have night time and your clients are situated in other side of the Earth and it shows afternoon there, using call redirecting service, calls may be routing to any of your available destination.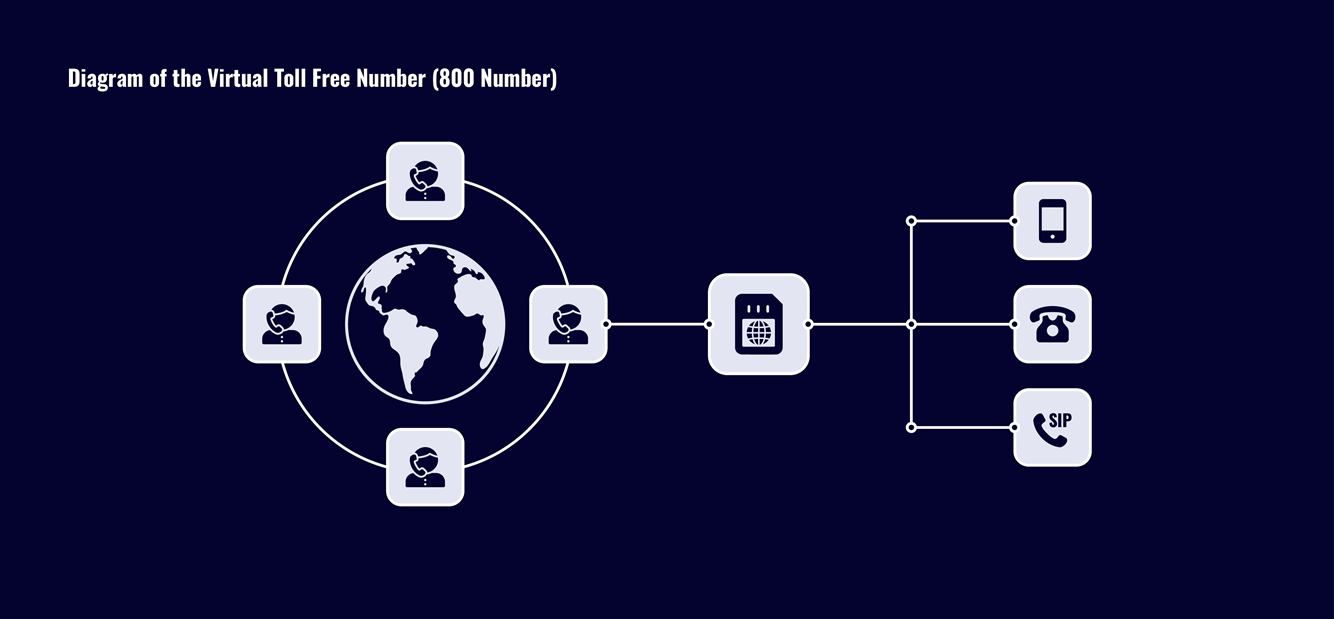 Call forwarding feature with 800 number
With Freezvon Company it's possible to get not only number, but also all setting of services important for its perfect running as redirection to mobile of operators, local number, SIP app (together with free SIP account), company's PBX, Asterisk, IP telephones etc. and any telephone service, such as voicemail , IVR and others.
Process of call forwarding for 800 number
Call-forwarding setting doesn't require additional cost. With this number (multichannel) you may set as many lines and call readdressing for full operating your clients requests, no supplementary cost to make this in need. Such combination allows managing your business without huge amount of cumbersome equipment, so, saving of company's money is guaranteed. After setting different forwarding via personal cabinet on our site, each call will come to necessary platform without problems.
Any ambiguous items concerning VoIP telephony? Specialists of Freezvon could bring unexpected (but evident) solution to your case. Contact them online (Skype, email or livechat).
Important advantages of the 800 number principle are represented by:
Consumers and partners, meanwhile calls are paid by the receiver;
Opportunity to unite all the existing numbers into one multichannel toll free number, while calls will be redirected to any office or cell phone, SIP-device or computer;
Processing of received calls does not depend on their quantity, so if you attach a voice menu service, you will get a brilliant opportunity to automate the primary procession of all incoming calls;
No need to increase telephone lines;
Call queue setup. For instance, if the line the user calls to is busy or nobody answers the call, he hears a greeting message and the system asks him to stay on-line. A service is very useful for such companies involved in sales, telemarketing and technical support.
Buy a number in our company and keep closer to your permanent customers all the time! Be available every time they call you! Contact us and begin to use our services with pleasure. We are available 24 hours every day via Skype, live chat online, email or by phone.