Use VoIP services united in big collection called Cloud PBX station. In a dynamic business environment full of modern customer-facing and sales companies, there is always an existing need of proper calls handling, operational redeployment performance management, statistics etc.
Connection of IP-based Cloud PBX station will not only carry out these tasks, but also improve the efficiency of the staff. Processing a flow of incoming calls is one of the most significant responsibilities, which is a part of the company's interaction with the potential buyers. Therefore, it is extremely essential to ensure its quality. With PBX system none of the incoming call is going to be missed, neither remains unanswered.
The main condition of the service is the availability of the device with Internet access possibility. All calls and messages can be received via mobile or through computer via SIP. In order to start making calls, you first need to install the special free software (Zoiper, Xlite ).
What is Virtual Cloud PBX and its principles?
It's a package of service from Freezvon, used as alternative to the office usual telephonic connection. The package includes a phone number, the necessary quantity of lines in order to create a multichannel communication, and a set of useful supplementary options. The system involves all devices, including the phones of remote workers. All functionality is configured exclusively for the needs of the specific company. It's available to install cloud PBX regarding to your own demands (you may select any feature accessible on our site).
What are the main preferences of such station?
Observe all possible benefits of this feature offered by Freezvon.
Managing inbound calls;
Improving the efficiency and competence of staff;
The absence of reference to the physical address;
The ability to connect additional services;
Workflow optimization for processing call affairs.
These IP telephony services contribute to the efficiency of the company, realization of business objectives, and meet all needs of corporate clients.
Working possibilities of Cloud PBX system
For its operation, there is no need for supplementary lines and expansion of the company's phone network. It is not tied to a physical address; it is fully mobile and easy to carry when moving to another office, or even to another city. All that is needed is to connect the IP telephone, softphone on the computer or use personal employees' smart phones, pre-configured to communicate with the server.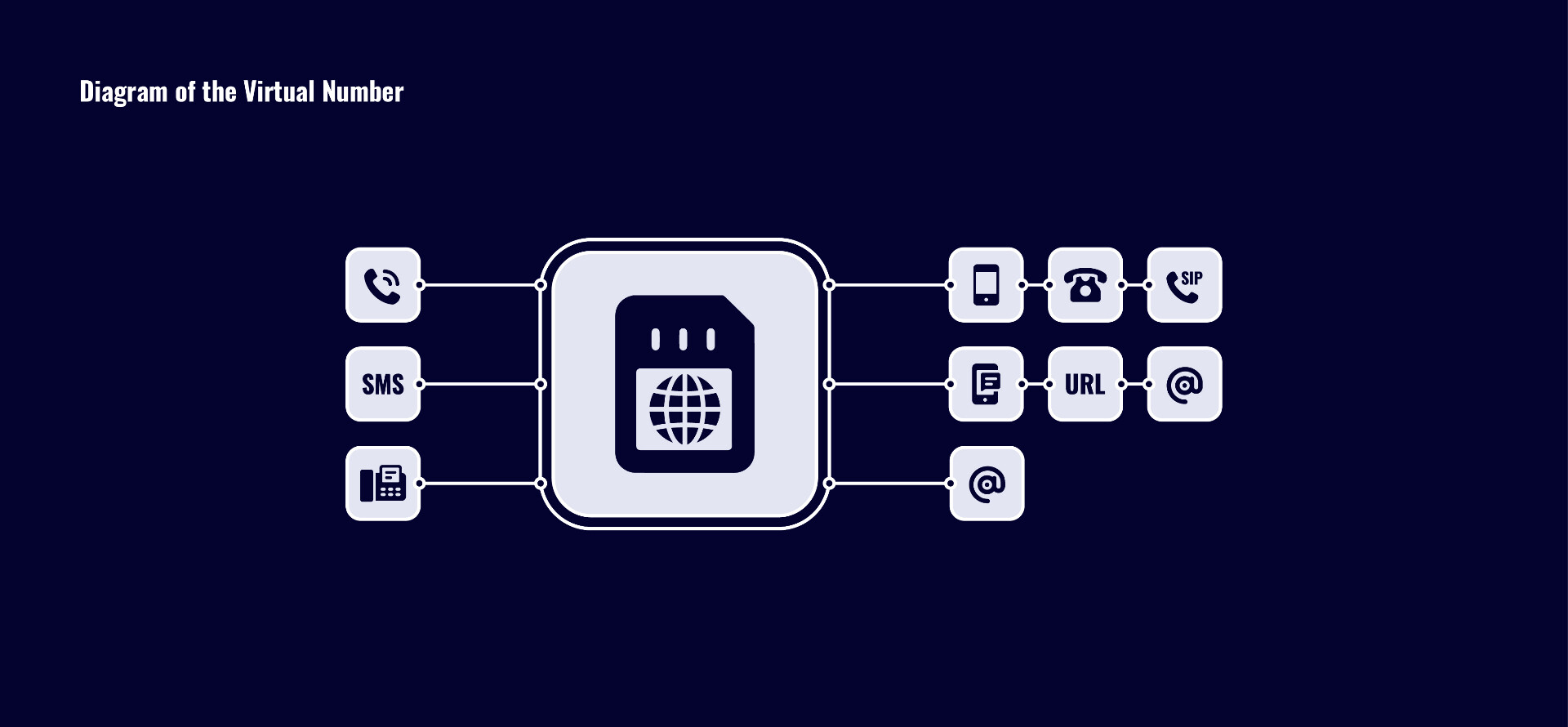 How a virtual number works
It has many advantages and can easily replace traditional telephonic communication. With convenient web-based interface, a virtual exchange, forget about the inefficiency of the staff and decrease a number of lost customers.
Functions of virtual Cloud PBX
It's up to consumers' demands what options to connect. Learn all of them and choose most appropriate to your virtual office:
Combining different phone lines into a single corporate network;
Audio recording conversations and history of all calls;
Statistics on the activities of employees and customers;
Easy call transfer to an employee/or department;
Free communication among employees;
Notification of missed calls;
Voice messages, depending on the workload of employees, time, and day;
IVR (interactive voice response);
Free professional recording voice messages;
The ability to use the phone instead of the softphone;
Connect functions with the Up-site plug-ins for browsers;
Send a personalized sms.
It will not only supervise the work of employees, but also helps to solve conflicts that may arise in the process of interaction with customers.
Example of use Cloud PBX
Assume that you are a manager of some goods importing company. The plan of yours is opening of several branches and service centers guarantee products, expanding the range. The increase in purchases/sales entails an increase in incoming and outgoing calls. Many employees will have to go on business trips, contact with members of other branches remotely. By connecting a SIP PBX, ensure uninterrupted talk to your colleagues, even in a large influx of incoming calls. In addition, PBX allows you to extend the functionality of the existing telephone network thanks to its scalability for different requests as well as to fully automate the process of interaction with the company's suppliers and customers.
Order Cloud PBX system from Freezvon
In order to buy an IP PBX for your company, you need to perform a few simple steps that will not take much time. To get started you need:
Register on our website;
Get access to the personal account;
Add funds in any convenient manner;
Choose a country and a city;
Select the device to redirect calls.
Choose subscription period for the number: 1, 3, 6, or 12 months (2-18% discount based on the period of subscription and the price of the number).
Once the number is connected, you need to determine the order, a number of lines you need and send us a technical request to email. For more information on the cost of telephone services you may find below.
Cost for Cloud PBX systemBuy Virtual IP Cloud PBX telephone system
When you have some questions, you can always appeal to our technical experts and they will give you full consultation and help to regulate all your troubles. Contact us immediately and receive all solutions for your situations. We are ready to present you full consultation, qualified support and friendly communication.