Get fixed number for cheap abroad calls. Sometimes there is a possibility of fixed number in any city, for example, if an office is located there or some important people are its residents. Providers of analogue telecommunication offer a connection of such phone number even if you live in Kyiv.
Then VoIP-telephony will help you totally permitting to obtain virtual fixed number. From this article, you are going to learn more about fixed number and its principle of work.
Such virtual phone number is connected online and does not require using of supplementary equipment. Order a fixed virtual number for needed region and set call redirection to convenient destination. Quantity of this service can be expanded.
What is virtual number of fixed number?
Freezvon Company is a leader provider of IP/SIP-telephony, our numbers have best quality of connection thanks to this all calls come via online. With this VoIP service, you don't need to use SIM-cards, no additional equipment.
Pluses of virtual numbers are presented below:
NO cables and SIM-cards;
Possibility to get calls free;
Increase acceptance of calls thanks to (multichannel number);
Create an effect of presence in appropriate region;
Connect additional functions;
No roaming connection.
Service of virtual number can be configured and expanded. For example, if you connect a greeting message, you can record your greeting and notify your customers about the upcoming or current promotion. In order to analyze your work and identify productivity, you will be offered to activate call statistics, which shows the cost of each call, as well as its date, and the number of common calls. In order to check call history and control a productivity of workers, install such option. For making digits combination visible to subscriber order Caller ID.
How virtual fixed number functions?
This number does not depend on telephonic network, it works without phone lines and telephone appliances. You need to set parameters for call forwarding via personal account. IP-telephony permits buying fixed number and setup redirection for mobile and other destinations.
Redirect calls to:
Other number (mobile or fixed);
Smartphone, PC, tablet with downloaded SIP app or IP-telephone.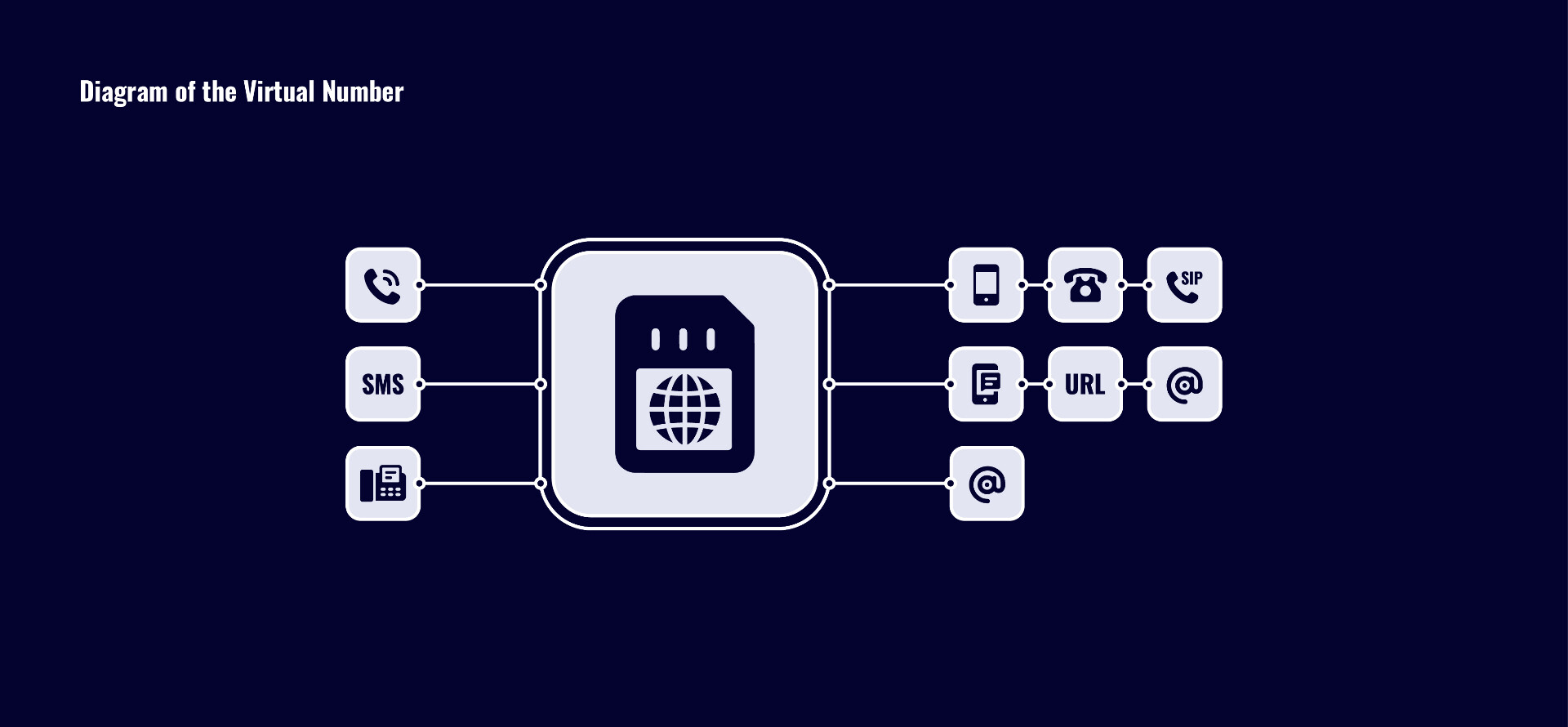 Make redirecting with fixed phone numbers
Calls to special application (for example Zoiper) and IP-telephone are redirected free to SIP-account.
Costs for phone number with code of desired city
Prices of this service presented by IP-telephony depend on the region where you want to use fixed virtual phone number. Pick needed country or city on Pricing page. In this section, you will see rates for outgoing calls and call forwarding to other number.
Costs for virtual numbers and other services
After number connection, you will get SIP-account free. You can also connect virtual PBX system and create unlimited quantity of accounts, internal numbers for within communication etc.
Buy fixed virtual phone number
If you have some questions, ask us via Skype, email, help live chat. We are always glad to cooperate with you and make IP-telephony clearer for our customers. We are for sensible and professional partnership between our team and customers. Our team works 24 hours per day for making your telecommunication more effective and profitable.