Obtain virtual number for Viber for communication abilities.The existence and successful usage of social networks supposes to have mobile to register there. Viber being one of them is not an exception. Users should verify Viber account and sms confirmation sending to mobile is exactly for that.
In this informative article, you could know more concerning usage of virtual numbers with Viber system. If you need cell number for such goals and do not have SIM-card (or other reason), virtual phone numbers may be suitable. From this article you can get info concerning virtual number for Viber and its peculiarities.
How to buy a virtual phone number for Viber:
Register online or log in to your personal account if you have already registered;
Top up your balance on the cost of connecting the number and the amount of subscribers fees for 1 month;
Choose a country (Russia mobile or Ukraine mobile)*;
Choose the type of number (SMS);
Choose a city or operator code;
Set up forwarding for receiving SMS (phone number, email or URL);
Choose subscription period for the number: 1, 3, 6, or 12 months (2-18% discount based on the period of subscription and the price of the number).
Check your details and complete the order.
* Virtual numbers for SMS can receive SMS messages only from real numbers. Not all mobile operators guarantee receiving SMS from internet-based services.
For receiving SMS from payment systems, social networks, Internet services, etc., are suitable only Ukrainian and Russian mobile numbers.
Making telecommunication more successful it's possible with making cheap calls to foreigners with SIP account that you get from us. You could get it from us, download special programs as Zoiper or Xlite and setup readdressing to SIP as principal destination. If you need mobile number for such goals and do not have SIM-card (or other reason), virtual numbers may be suitable for you.
Virtual phone numbers for Viber and their work
Generally speaking, it has its own country code and visibility of a real telephone. Main difference is the process of its work: they work thanks to call, SMS and fax redirection to other device. If we talk about number for Viber, sms number is what user needs. It works due to redirection of sms to email, website or alternate mobile – the device that is suitable for you mostly. The forwarding may be always changed in profile, so you may control how you want to accept your sms messages by yourself.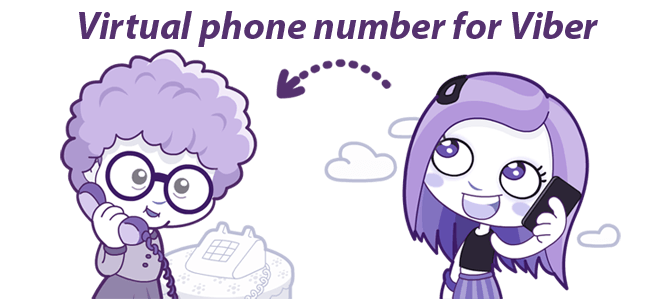 Virtual numbers for Viber
It's obligatory to mention that there is special service, which unites range of functions connected with IP-telephony such as: interior numbers, limitless SIP-accounts, IP-address, salutation message, blacklist and others. See the costs and rates for installation here.
Pros of virtual number for Viber purchase
They possess a lot of benefits that make them be new solution in communication world. Among them are:
Workability without special equipment or SIM-cards;
Forwarding of sms, calls, fax to comfortable device;
High connection quality of calls and fast sms and fax receiving;
Money saving (cheap services and tariffs are low);
Possibility of connection additional services etc.
These and other advantages are also for Viber number.
Various numbers from Freezvon company
Except sms phone numbers Freezvon offers numbers for:
SMS + calls;
Calls (redirecting to SIP, IP-telephone);
Fax (receiving to email);
Fax + calls;
Toll free and multichannel numbers. See the list of available countries and their prices here.
The rate of redirection depends on the type. The forwarding of calls to SIP is free, and of fax and sms to email is also free. The forwarding to phone of calls and sms is chargeable. Find the prices of them below.
When the number is connected, you will receive a notification to your email with information about your number (it is therefore very important that your mail and your contact phone number are correct).
*Keep in mind that Freezvon does not guarantee to receive a call or SMS from Internet-based phone numbers and systems used by websites, apps, social media, and other Internet services to verify accounts.
There are many successful cases among our customers who used a virtual number for this purpose. This does not mean that it falls under the umbrella of the "intended use" for a virtual number.
This article is written strictly for informational purposes only.
For asking all questions that appear about the work of numbers and work with Viber, please, apply to support specialists over e-mail, live chat or Skype. Contact our technical support and get all answers to your questions. We are always ready to cooperate with you no matter what time zone you live in.