Effective and fast method of SMS forwarding is possible with using virtual number. We often face to the cases of communications via messaging and have to read an incoming SMS without delay or send it someone special.
Sometimes it happens that your phone is switched off because of a low battery and, as a consequence, you have no access to operator's mobile network. In order to get or send SMS you can order virtual SMS number or virtual number for SMS and calls.
How to get the number for SMS forwarding in several seconds?
You may get this helpful for business and home service from Freezvon. Firstly, find out the prices for number here. Then all is necessary to do is only to:
Register online or log in to your personal account if you have already registered;
Top up your balance on the cost of connecting the number and the amount of subscribers fees for 1 month;
Choose a country;
Choose the type of number (SMS);
Choose a city or operator code;
Set up forwarding for receiving SMS (phone number, email or URL);
Choose subscription period for the number: 1, 3, 6, or 12 months (2-18% discount based on the period of subscription and the price of the number).
Check your details and complete the order.
You see this process is very simple, so just make several clicks and become Freezvon customer and IP-telephony services user. This number becomes usable within 24 hours. Just enter your email where you will find a letter from our team.
From this article, you could get info concerning the work of SMS forwarding process and its peculiarities. Virtual SMS phone numbers have been created just to forward SMS to email, URL or another cell number you get. These numbers appeared on the telecommunications market not so long ago, but it became one of the most popular service among others and, as a result, many customers found a necessary solution for their office and individual communication.
SMS forwarding process via VoIP number
This number gives an opportunity to forward SMS-messages online. So that SMS forwarding is set up in such way that when you send texts to virtual SMS number, the system redirects them to e-mail, URL or other existing mobile number. In this case, texts can be read by means of any device, which has access to the Internet. Forwarding to email and URL is FREE of charge, but to another cell phone redirection is chargeable.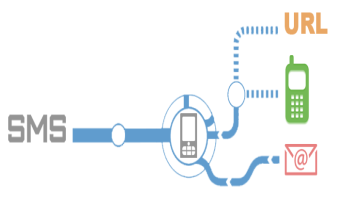 SMS forwarding for virtual number
Moreover, a memory card of a particular telephone is limited to certain capacity, while e-mail can contain almost unlimited amount of SMS texts. You do not have to think about that moment when you have to delete all messages. Using this phone number, get a guarantee that all the incoming texts will not disappear in case your phone is lost or broken, as it often happens to mobile phones. And it is much more convenient in receiving SMS texts to e-mail you can get access anytime.
Receiving and sending SMS messages at low price
Purchase of a virtual number for SMS is a very valuable investment for each company that plans to make different promotions, tournaments, quiz or SMS-voting. A virtual number for SMS can help you to inform your customers about different promotions and news in your company. Such kind of service will not only be an entertainment for a customer, but also you will get an opportunity to send SMS via the Internet.
Besides getting SMS to your phone, email or URL you may also:
Send SMS via your personal account on Freezvon website;
Send out messages to several subscribers simultaneously (bulk SMS);
Receiving SMS to URL for FREE.
Freezvon also provide virtual numbers for SMS and calls, which has separate destinations of forwarding. About the SMS destinations you know, but concerning the calls, they are redirected to SIP or other phone number. Virtual telephony for SMS is not restricted by its possibilities, as anyone including companies may get something useful in it. So, before getting the number now online within some time, check the costs shown below.
Pricing and rates for SMS numbers
In our company text message rates are much lower than in other companies and mobile operators. All these peculiarities of a VoIP virtual number for SMS will enable all the customers to use a new approach to their partners and users. You are able to see the rates for SMS and see the prices for such SMS numbers:
Rates for SMS messages via virtual number
Advantages of SMS forwarding feature online
This service has lots of pluses and can optimize your telecommunications as you run the business affairs as you need it for private communication. If you decide to set this kind of forwarding, read please the following pros below:
You can get unlimited quantity of SMS messages;
Get SMS in any corner of the world;
Monitoring and control of received SMS;
Setting or changing forwarding via personal account anytime you need.
With such type of redirecting and virtual number you will be always accessible to any of your subscriber, even if you stay abroad.
During 24 hours your number will be ready for working. If you have some additional questions, you may apply to technical support of Freezvon, and 24-hours support will be glad to help you. Click here and contact us via Skype, email, online live chat or by phone presented on our official website.