IP telephony the best choice for home and business telecommunications. We live in times when technical progress is boosting day by day. We find interesting to use more advanced technologies that make our life easier and more colorful.
Whether it is good or bad, we literally get into the system where every day something interesting is invented. Today accessing the Internet is no longer a problem, we freely use our smartphones and computers to get in touch with friends and business partners no matter where they are, isn't this great?
We are free to talk being members of social networks and of course, we do not forget about talking with our partners and friends on telephone. But wait for a minute, did you ever think how much money do you spend on your telephone conversations, did you ever think about economy? We would like to tell you about a new milestone in the history of telecommunication called IP telephony!
IP telephony and its basic telephone services
It's kind of telephony that works thanks to transmitting information via Internet. Virtual number is a service of this telephony, which isn't tied down to the location, so the place of user doesn't matter. Such number works with forwarding of calls, sms and fax to the appropriate directions.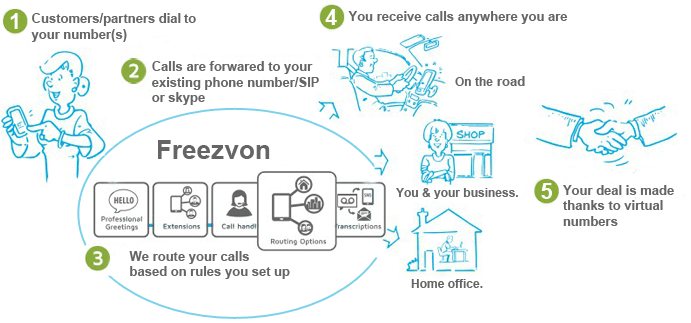 IP-telephony products usage
Virtual telephone number is for:
Calling or receiving calls;
Sending and getting SMS;
Receiving fax.
Subscribers of IP-telephony can get Multichannel phone numbers, Toll free 800 numbers or create their own virtual PBX station.
As additional services you may install to your primary virtual telephone number:
Voice IVR menu;
Call history ;
Hold music;
Greeting message ;
Voice mail;
Call recording.
Blacklist
With the principal additional IP-telephony features, its costs and list of cities and countries, you may learn on website of Freezvon. If you need to get one of these services, just write a request to our technical manager, but first get a virtual number for using appropriate service. Details you will find on personal account.
Types of virtual numbers from IP telephony
You may select the necessary variant you like, just get it. Numbers we offer can be for:
Calls which are forwarded to SIP, another mobile or landline;
SMS that you may receive to server, e-mail, another cell number;
Calls and SMS which are operated by one virtual number;
Fax and calls that are monitored by one number;
Fax will be received to e-mail in PDF format;
Toll free 800 number which permits people to call freely to your number;
Multichannel number comes with many lines for making it not so busy and achievable for callers at any time.
Pick up what you really need from the list above.
How IP-telephony system works?
Working principles of IP-telephony are very essential for people interested in their telephonic communication improvement. Virtual number is attached to IP-address of the user, who has the possibility to set calls directing to any gadget such as:
Mobile;
Local corded number;
SIP;
Computer (redirecting calls to computer requires entering the data from Skype account or other specialized SIP apps).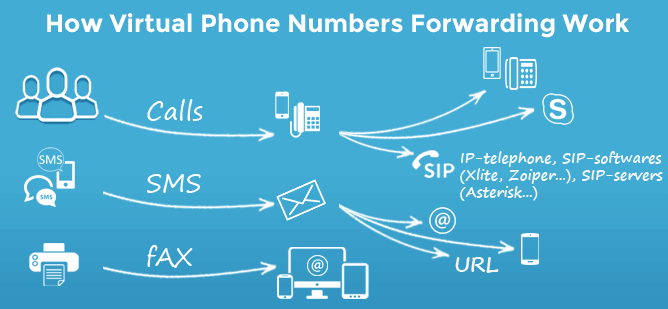 Working principles of IP-telephony
IP-telephony apps expanding users' abilities
There is a range of mobile and landline apps. Its usage helps to get more understanding of new IP technology. The most popular of them are:
Zoiper ;
Xlite ;
Asterisk.
They can transmit voice messages between telephone network and IP-telephone (SIP device). They are popular among corporations or any other private users.
Pluses of IP-telephony and its advantages
So what exactly is good in using IP-telephony and virtual numbers? First, we want to tell you about the biggest advantage – the low price of services! It will not shake out your pockets and it is the good news for companies that do business with foreign partners, this service offers many decent solutions for anyone. For example, buying a SIP number for business sphere will not only provide you with an affordable and great connection with partners from abroad, but also can be useful for organizing the inner work of the office.
IP-telephony provides higher amelioration of connection quality. For that there are several reasons:
All VoIP technologies are always in development process;
Subscribers can make settings on their own.
It's convenient that IP-telephony permits solve such questions as receiving of big quantity of calls at the same time. You can install unlimited quantity of lines installing virtual PBX station.
How much does IP-telephony cost?
To get acquainted with the prices for connecting numbers with reference to the country that is needed, as well as to study the list of available areas for their registration, you can see in the "Pricing" section on our website. In order to check the costs for outgoing calls, please click the button below. Call Russia and other CIS countries on accessible costs.
Rates and coverage for IP telephony services
How to install services of IP-telephony from Freezvon
For usage of this communication method, you need to get virtual telephone numbers. They are for calls, sms, fax, toll free 800 and multichannel types of numbers. To order virtual number you need to:
Make registration to our website;
Get an access to personal cabinet;
Top up the balance;
Select the type of number;
Choose the coverage area;
Indicate a device for forwarding;
Choose subscription period for the number: 1, 3, 6, or 12 months (2-18% discount based on the period of subscription and the price of the number).
Confirm ordering!
In several hours the number will be activated. If you want to connect SIP, just send a request to our technical support. We will send you all required information and settings concerning installation.
How to get IP-telephony services
More detailed info it's possible to get from technical support via Skype, email or live help chat. You can always to contact us and check everything you are interested in. Our specialists work 24 hours every day in order to make your usage of our IP-telephony services more comfortable and profitable.