What do we know about principal function as call forwarding feature to existing numbers? That is a unique service of VoIP telephony working on principles of availability in any physical place. Together with VoIP number such service makes you be accessible and ready to receive call to any alternative comfortable number.
Remember about effectiveness and cheapness of these services. It is the most convenient way of accepting calls, because we can't imagine a person who has no smartphone.
Choose this kind of redirecting, accept calls and enjoy the best talking ever (VoIP with call divert is perfect). We're going to help with settings, so don't be afraid of unclear moments during purchase procedure. From this article, you will get something new that concerns call redirection to phone, its advantages, the process of work and sphere of usage.
Definition of call forwarding to phone
This special process means all calls will go to any phone you got. As you remember, principle of VoIP virtual number's work depends on forwarding process. Except number destination we are able to propose you such as SIP (IP-telephone). But let's get back to our theme, forwarding of calls to phone is paid, but only at reasonable cheap rates, which you can see here. If you have a desire to control your call affairs, just order such function as call history, with the help of what see all data about your telephony.
Freezvon proposes a great service to your office telephony called PBX system with several features as internal numbers, unlimited SIP-accounts, own IP-address, recording of calls, voicemenu etc. Start your telecommunicaton literally.
Preferences of call forwarding to other phone
Call redirecting process to alternate number has many preferences, principal goods can be as:
They are reachable anytime and any place in the Universe.
Rates for abroad calls are much cheaper than usual ones.
Numbers will always be owned by its user.
No physical attachment to locations.
Absence of additional appliances as SIM-cards.
It is no wonder that VoIP services are becoming more popular among telephony users.
Inbound call forwarding to phone device
The principle of number lies in rerouting to mobile or fixed number. Redirecting to VoIP number is diverted to alternate number.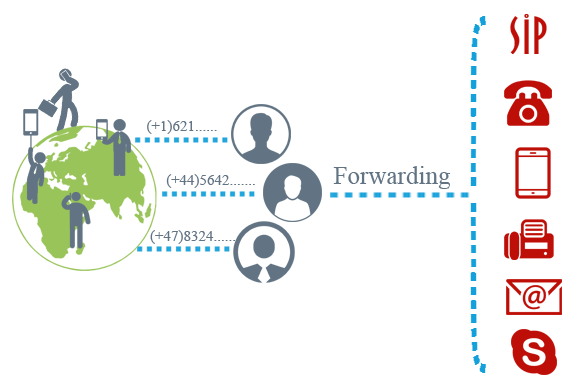 Call forwarding to phone
For example, a company, which is located in Russia, makes plans to open its office in Spain and to promote its goods there. Earlier it was necessary to organize an actual branch there, rent an office and hire people. Nowadays, all that you should do to attract Spanish consumers is buying a number and set up diverting from Russian office to Spanish number. It will be enough for business promotion abroad. Spanish partners and permanent standing consumers will have no idea about the actual company's location and that it is not in Madrid.
If you have a desire to ameliorate your telecommunication, just try our additional Freezvon services designated for better work of virtual number. There are such services as call recording, welcome message and others.
Call forwarding to telephone set up from Freezvon
Redirecting has easy and simple set and contains such steps to be followed:
Register on our website;
Put some money on account to pay for services;
Get a DID phone number, which is bound to one of world states.
For setting up this feature in a proper way, specify numbers, where calls will be diverted to (divert routing). If you need each call to be redirected to any local or cell, just write a necessary number in an abroad format.
Prices for VoIP phone servicesBuy Virtual Number for forwarding calls
Besides, set up diverting parameters in your personal account. These can be temporary options such as filtered and diverted VoIP calls according to time settings, like evening time, holidays and festivals. The call divert option can be set up as well. When number is busy, create the priority of receiving calls. Contact us to know more.