Order Russia toll free number for inbound calls and give subscribers more confidence. Anybody imagine before that telephony became so modern and unproblematic. Especially, when it concerns IP-telephony. Freezvon recommends getting toll free numbers for Russia, one of the best solutions for maintaining affairs.
If you're hoping your company is a leading enterprise, you should remember about tiny elements of your work that concerns the telephony. Learn more concerning telephony of free calls for Russia.
How to buy Toll Free (800 numbers) for Russia:
Register online or log in to your personal account if you have already registered;
Top up your balance on the cost of connecting the number and the amount of subscribers fees for 1 month;
Choose a country (Russia);
Choose the type of number (Toll Free);
Choose a city or operator code;
Set up forwarding for receiving calls (phone number or SIP);
Choose subscription period for the number: 1, 3, 6, or 12 months (2-18% discount based on the period of subscription and the price of the number).
Check your details and complete the order.
When you confirmed the purchase, you need to wait 24 hours for availability of your Russian toll free number. Our manager will send you a notification to email. Just be attentive and do not miss a letter from us.
*Please, note: all the Toll Free (800 numbers) require IDs in any case. Find out more here
Exept toll free numbers in Russia, Freezvon recommends you to connect other types of virtual numbers as Russian mobile number for calls and SMS forwarding that you can use as for messages as for calls. There are also the numbers for faxes, which always redirect fax as PDF file to email only. We provide such available Russian cities for virtual numbers connection as Moscow, St Petersburg, Ekaterinburg, Kazan, Tula and others. It is easier to held the business with such VoIP telephony services. Now in this article we are going to tell about Russian toll free 800 number with call forwarding option.
What is Russia toll free number and how it functions?
That is a kind of VoIP virtual number that permits to the callers dial to any company for free with no fees. It has code 800 as distinguishing feature and several phone lines. The user that is an owner at the same time must pay for every inbound calls received from the subscribers.This number as any virtual number can forward calls to any convenient course chosen by user. It can be:
Another mobile or fixed phone;
Skype (FREE);
SIP (FREE).
Toll free numbers are very widespread in business spheres (e-stores, call centers, banks etc.). If you work with permanent customers and reckon upon its increasing level, these numbers are your right decision.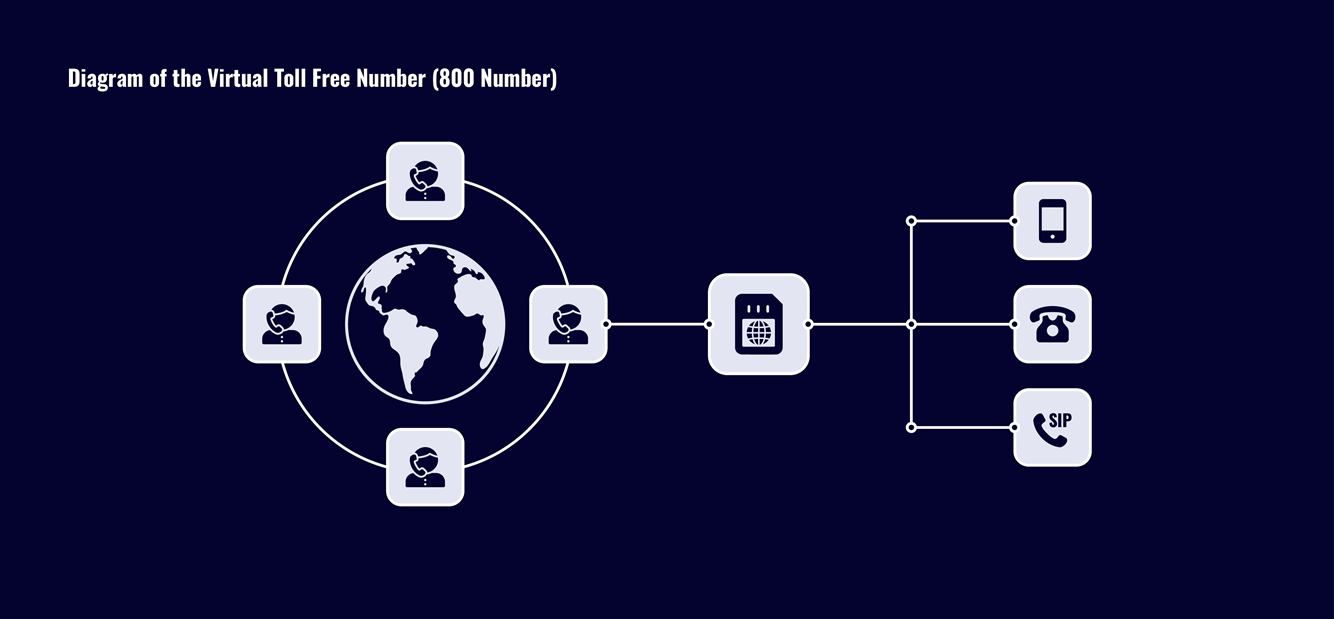 Russia Toll free number
What are pros of toll free numbers for Russia?
If you need to stay confident and confirmed in reliability of toll free numbers, just examine the next recommendations about them:
It's cheap and easy in utilization;
Clients do not to pay for their outgoing calls and trust you more;
It's available to order this number being online, you just need good web connection;
It doesn't need to work with SIM-cards or wires;
That's possible to obtain Moscow phone number +499 or phone number Moscow +495;
It's independent from any location;
It's accessible to connect any of our additional services as IVR-menu, call recording , call history , voicemail and many others.
Other virtual telephone numbers for Russia
Apart from toll free, you could get any other VoIP number, just look, they are for:
Calls;
SMS;
Fax;
Calls and fax;
SMS and calls;
Multichannel numbers (multiple lines for number to make it not so busy).
Freezvon as a provider of IP telephony services can provide people not only with features appropriate for business, but for specific personal needs. You can buy number and talk with people you appreciate the most from any point of the world.
Technical experts are always open to your questions, just let them do their work and make your life easier. Write to them via live chat, Skype, email or give a call. Contact us immediately if you have some questions or you are interested in buying some of our services.